LeBron James wore a safety pin on the cover of 'Sports Illustrated'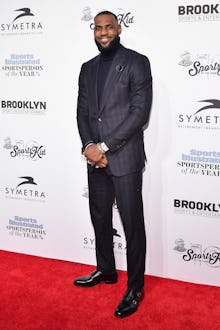 Basketball superstar LeBron James, who was recently honored with Sports Illustrated's Sportsperson of the Year award, wore a very pointed accessory on the cover of the latest issue of the magazine, the Associated Press reported — a white safety pin attached to his lapel.
In the weeks following the presidential election, safety pins emerged as a subtle, and sometimes contentious, symbol of solidarity for the groups that may be most at risk during a Trump presidency. The safety pin first emerged as a symbol of solidarity in post-Brexit U.K., in the wake of a rise in racist and xenophobic attacks. 
The woman who appears to have started the safety-pin trend told the Guardian back in June that she got the idea after seeing news stories about people being "abused" on public transit. "I was watching the Euros with my husband and I thought, how can we show people in public we are going to stand with them?" she said. "We didn't want to force people to go out and buy something so I said, what about a safety pin? Most people have one somewhere in the house."
The safety-pin took off in the U.S. for many of the same reasons, but it's also been criticized as a passive symbol that may not do much to actually help the marginalized people who will be most at risk. 
But LeBron James has done more to resist Trump than just wear a safety pin — he also campaigned for Hillary Clinton during the election, the AP reported, and, despite his team's affiliation with a New York Trump hotel, James recently opted to stay somewhere else, calling it a "personal preference."