Netflix's 'The OA': Is this the answer to your 'Stranger Things' separation anxiety?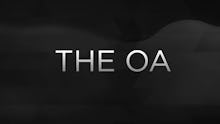 With Stranger Things not returning for a second season until sometime in 2017, fans of the mysterious need not fret, as there may be another option as soon as Friday: The OA. 
Netflix's The OA has been shrouded in mystery since it announced in 2015 that it ordered the series by Brit Marling and Zat Batmanglij. While the series' plot is still largely unknown, things are a bit clearer following with the recent drop of its trailer. 
The OA stars series' co-creator Brit Marling as Prairie Johnson, a woman who has been missing for seven years. Adding to the mystery is the fact that Johnson was blind when she went missing, but she reappears with her sight intact. Netflix has already taken to Twitter, upping the series' intrigue with several mysterious tweets. (Editor's note: The video may be disturbing to some readers. View with discretion.)
While The OA and Stranger Things are unrelated properties, fans of the latter may be attracted to the new series' mysterious plot. The first season of Stranger Things largely focused on the disappearance of Will Byers. The OA will also deal with the odd circumstances surrounded the whereabouts of a main character: Prairie Johnson. 
Similar to Stranger Things, The OA also appears to hint at what looks like medical experimentation, with one scene in the trailer featuring Johnson having some sort of device lowered on her head. This may be, however, where the Stranger Things comparisons end. 
The OA will undoubtedly be its own series, set on making its own unique mark on the streaming platform. And unlike Stranger Things, which largely deals with the journey of adolescents, The OA appears to revolve predominately around the circumstances of adulthood. 
Fans of thrilling mysteries will undoubtedly want to set some time aside Friday, when Netflix will be dropping all episodes from The OA's first season. It looks like Dec. 16 is no longer just Rogue One day.