Oklahoma wants to put anti-abortion information on signs in public bathrooms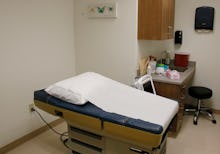 As part of a new anti-abortion effort, the Oklahoma State Legislature is making plans to post signs in public restrooms providing pregnant women with information about where to receive medical care. 
The initiative is part of a bill the Oklahoma House of Representatives approved in May, requiring the Department of Health to develop educational materials "for the purpose of achieving an abortion-free society." The legislation came during the same week Oklahoma lawmakers passed a bill that would make it a felony for doctors to perform abortion procedures, placing an effective ban on abortions. The state supreme court ruled the law unconstitutional in October.
According to the Associated Press, the new informational signs would include a link to the Department of Health website and read:
There are many public and private agencies willing and able to help you carry your child to term and assist you and your child after your child is born, whether you choose to keep your child or to place him or her for adoption. The State of Oklahoma strongly urges you to contact them if you are pregnant.
The State Board of Health is slated to consider regulations for the signage — which would cost businesses, hospitals, nursing homes, public schools and the like an estimated total of $2.3 million — on Tuesday. 
Jim Hooper, President of the Oklahoma Restaurant Association, appeared more worried about local businesses shouldering the cost of the initiative rather than the message of the signs themselves. 
"We don't have any concern about the information they're trying to get out to women about their babies and their pregnancy," Hooper told the AP. "This is just the wrong way to do it. It's just another mandate on small businesses." 
But advocates for women's health and reproductive freedom know there's far more at stake for women.
"All women deserve the most accurate information and resources when it comes to making decisions about their reproductive health care, including carrying a pregnancy to term," Amanda Allen, senior state legislative counsel at the Center for Reproductive Rights said in an email to Mic. "This requirement shames and stigmatizes women seeking constitutionally protected health care."
Allen said that while the legislation is certainly "insulting," she called it just a "drop in the bucket" considering the state's May attempt to criminalize abortion.
"The Center has a 100% success rate for concluded cases challenging Oklahoma restrictions on reproductive health care services," the agency stated in a press release from October.
The Center for Reproductive Rights has its work cut out for them given the onslaught of recent anti-abortion legislation coming out of multiple states, including the November ruling in Texas requiring the burial of aborted fetuses and the "Heartbeat bill" that made its way to Ohio Gov. John Kasich's desk last week.
Of Oklahoma's plans, Allen continued, "This is government overreach at its worst — if the state truly cared about women's health, they would provide accurate, unbiased information about access to the full range of reproductive health care services, including contraception, prenatal care and abortion."