Holiday Gift Guide 2016: The perfect gifts for every traveler on your list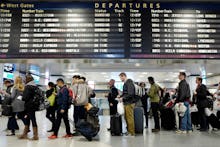 The best thing you can give someone this holiday season is the gift of hassle-free travel. 
Whether you're shopping for a seasoned globetrotter or just looking for ways to satisfy your own wanderlust in 2017, we've got you covered with our rundown of can't-miss travel gifts. 
Editor's note: Prices and product availability are subject to change throughout the holidays.
Bose QuietComfort 35 headphones: $349.99
Noise-canceling headphones are more than just accessories — they're necessary to help block the sounds of your fellow travelers. This set isn't cheap, but it's worth the high price if you treasure a restful night above all else. Each foldable set (perfect for space-conscious jet-setters) comes with noise-canceling technology, wireless audio options and up to 20 hours of battery life. 
Raden A22 suitcase: $295
Lugging your prized possessions over long distances is enough to turn off any would-be traveler. Ditch the cheap carry-ons and upgrade to specialty bags from Raden so you or your loved one can spend more time enjoying the journey. 
This TSA-approved suitcase is outfitted with a hard polycarbonate shell to prevent damage and dents, USB ports so travelers can charge and roll at the same time and proximity sensors to help keep track of possessions 
Polaroid Snap Touch camera: $179.99
Looking to develop lasting memories and quickly share them with friends during your travels? This instant digital camera — which is equal parts nostalgia and usability — can help. The lightweight, Bluetooth-enabled camera lets you share and print your photos immediately. After taking a snapshot, users can edit the image, develop it via the built-in printer (say goodbye to messy ink cartridges) or share it wirelessly. 
Olloclip 4-in-1 lens kit: $79.99
Samsung Galaxy and iPhone users can get the best shot possible with Olloclip's 4-in-1 Lens kit. The company originated on Kickstarter, and its lightning-fast evolution has given Instagrammers and novice photographers the ability to take impressive photos using four distinct lenses (fisheye, wide-angle, macro 10x and macro 15x) without taking on the hefty price tag attached to regular DSLRs. 
Sleepmask by Silk: $45
There's a reason this sleep mask is a whopping $45. Unlike other eye masks made from synthetic materials, this product is constructed from pure silk and includes hypoallergenic and dust mite-resistant technology. Its material helps keep your face hydrated and eschews toxic dyes to keep your skin as healthy as possible. 
Alpine Swiss wallet: $19.99
Wallets aren't the first thing you think about when it comes to vacation, but they can be an important part of the travel experience. Losing your money, credit cards or personal documents is one surefire way to turn a fun trip into a nightmare. This signal-blocking case pulls double duty by helping organize your cards and protecting you from hackers who might attempt to steal or skim your account information remotely. It boasts extra card space and on sale on Amazon for a limited time throughout the holidays. 
This month, Mic Essentials brings you handpicked deals, reviews, recommendations and gift ideas. For more ideas, see our lists for best fitness smartwatches, Amazon deals of the day, weed tech and vapes. If you buy something through a link on this page, Mic may earn a small commission.