Model Barbie Ferreira is calling out the plus-size industry's lack of inclusivity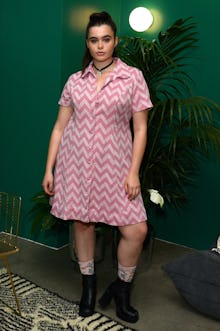 Model Barbie Ferreira hasn't been shy about speaking out on the struggles facing women who wear above a size 4 or 6. She's been outspoken about the importance of not being retouched (she models for Aerie, after all), as well as just how hard it is for a woman who's larger than sample size to take on a red carpet. 
And now she's now taking on the modeling industry as a whole, and its lack of inclusion of diverse and truly plus-size women.
It all started on Monday, with Ferreira posting an Instagram of the stretch marks across her hips with the caption: "mi lil stripes are out here. soothing them with vitamin e oil n noticing how cute my body can be despite lil changes." 
After Teen Vogue wrote about the picture, calling it "empowering," Ferreira took to Instagram yet again in an effort to call out the plus-size and curve modeling industries for not nearly being inclusive enough for larger, curvier women. 
"This industry is not cute, never has been," Ferreira, who's modeled for Target and Lane Bryant, wrote. "I don't want to sell you this idea that all these brands are so body positive when it's so few that actually represent what women look like — not just an idealized version of a thick girl (like they try to do to me). Girls are not treated like people in this industry!! At all!!"
And that goes for models who wear size 0 or 2, and models who wear an 8 or 10 or 12. 
"If you think my abuse is bad, ask a runway model who went from a 34- to a 35-inch hip," Ferreira wrote. "They will tell you they flat out get told to starve and that they're looking fat. Shit isn't as pretty as it looks but I'm here to infiltrate from the inside. I truly don't know how much we can do as curvy models when we're still thought of as mannequins — just ones who are cursed to only wear peplums and tunics all day to cover our 'flawed' bodies and show just our usually thin faces."
Although Ferreira ends her post by calling it a "rant," there's lots of measured truth to what she's saying. Plus-size and curve models all do tend to have this idealized version of "curvy," with thin waists and an hourglass figure. Their faces are thin enough to still sport modelesque high cheekbones. Though they are otherized in the fashion industry, they still too often adhere to an unrealistic beauty standard.
Even though the plus-size modeling industry prides itself on breaking model norms, there's still plus-size model norms that these women have to conform to. 
And Ferreira just isn't here for that.