Top Albums 2016: From Beyoncé to Kaytranada, music that inspired, healed and destroyed us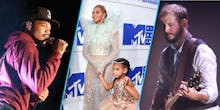 Music in 2016 likely had to do more for critics and audiences than music has had to do any other year in recent memory. 
It had to do more than simply soundtrack our commercials and nights out, or fuel the perpetual arguments over who wears hip-hop and pop's respective crowns — it had to cut through the noise. 
Music had to argue for its worth during months when heaps of new frustration or tragedy threatened to consume every engaged person's attention span and energy. It had to inspire, uplift and motivate in addition to offering escape — things great music has always had to do, but this time, confronting a maddening election and the startling rise of authoritarian and nationalist forces. 
Some amazing artists came forward to do just that, pushing the boundaries and potential of their genres to new extremes. Here are 14 that stood out a little brighter from the pack.
14. Blood Orange, Freetown Sound
Written for "everyone told they're not black enough, too black, too queer, not queer the right way, the under appreciated," Dev Hynes' Freetown Sound is styled as a "clapback" to those criticisms, as the artist wrote in advance of his album release. 
The music transposes that goal into a collection of heartfelt, synth-driven love songs, uniting some of Hynes' most frequent collaborators, such as Empress Of for the standout "Best to You" and Carly Rae Jepsen for "Better Than Me." Each elegant, breathy hymn seems comfortable with its own '80s idiosyncrasies, repeating the album's self-love mantra in every melody, hook and verse. 
13. Car Seat Headrest, Teens of Denial
Guitar music may not dominate the music culture like it did in the '70s or the early '00s, but that doesn't mean it's a lost cause. As many 2016 albums proved, it doesn't take much more than a guitar, a mind full of honest stories and a sense of musical cunning to craft a rock album worth celebrating. Car Seat Headrest's Teens of Denial is one of the stronger proofs.
The project's lead, Will Toledo, resurrects tenets from the once-flourishing indie rock movement, with all its sardonic poeticism and quirky instrumentation, but uses them in unique ways to offer an exciting, introspective look at some of the contradictions young life. The songs tackle drugs, depression and identity, offering no easy revelations. But paired with songwriting this clever, that kind of moralizing would simply slow things down.
12. Kaytranada, 99.9%
Kaytranada has been flitting through the Los Angeles alt-hip-hop and R&B scene for a few years now, but this year he properly introduced himself to the world with his first full-length LP, 99.9%. Stacked with trippy house beats and soulful EDM tracks, the album listens like a loose DJ mix soundtracking a revitalizing night on the town.
There's a sense of playfulness and effortlessness to these tracks of a kind that frequently gets lost in lesser electronic soul releases that try to take themselves too seriously. They lend the impression that as Kaytranada continues to perfect his powers, soon every track he touches will turn to soulful, summer dance party gold.
11. Danny Brown, Atrocity Exhibition
Over his last three albums, Danny Brown has been writing his autobiography across perhaps the most consistently jarring hip-hop canvas imaginable. XXX dealt with pre-fame hysterics. Old led fans through Detroit streets in search of a loaf of "Wonderbread" for Momma Brown. Atrocity Exhibition is a glimpse into the mind of a man who has comfort, success and a good feline companion, but is still uncontrollably hungry for more. 
Brown's latest is his most refined work yet, an admirable shot at keeping his "high on scores on Metacritic," as he once described his album-to-album goal. Its beatwork is varied and immersive and his bars exaggerate their depravity. Additionally, his Kendrick Lamar, Ab-Soul and Earl Sweatshirt collaboration, "Really Doe," is a stronger posse cut than any offered by hip-hop's chart-topping players.
10. Beyoncé, Lemonade
Mic's Jamilah King may have said it best in her review of Beyoncé's show-stopping Lemonade: This "is what happens when black women control their art." 
For Lemonade, Beyoncé took all of her life's unpleasantries — the baggage that comes with being a black woman trudging through time, from emancipation and towards the equal future it promised — and pressed their essence into an album that stretched her vocal abilities and creative faculties to their seeming breaking point.
Beyoncé's vocals crack and soar on the captivating "Sandcastles" and slink lithely on "6 Inch." Her raps knock on the confrontational "Formation," which sent conservative pundits scurrying for pitchforks to force Bey to return to her more demure creative self. Hopefully, she never does. This "Beyoncé with the range" is the brightest we've seen.
9. A Tribe Called Quest, We Got It From Here... Thank You 4 Your Service
Few albums reflected the simultaneous tragedy and importance of 2016 better than A Tribe Called Quest's We Got It From Here... Thank You 4 Your Service, an offering many fans likely thought they would never see following rapper Phife Dawg's death in March. During the memorials to follow, rappers from Kanye West, Busta Rhymes and Andre 3000 all attempted to sum up the importance of Phife's style and skills to hip-hop — but the bars he offers on We Got It From Here speak more convincingly than any of them.
Each emcee's rhymes were breathtakingly pointed and complex. The album was no victory lap; Q-Tip, Jarobi and Phife had truths to communicate and a vision of a new hybrid style, bridging the new with the Golden. The album spoke to the post-Trump world, highlighting the voices and stories the future president and his cronies cannot afford to forget in their crusade to make America great again. The album seems to suggest that America has been great and will be for years to come, as long as we the people stay energized and conscious.
8. NxWorries, Yes Lawd!
Soul came to another crossroads in 2016. We lost many of the genre's torchbearers over the course of this painful year — Prince, Maurice White, Sharon Jones — but we met many more, chief among them Anderson .Paak. The drummer, rapper and future soul institution released two projects this year. The first, Malibu, was a more straightforward, poppy soul release at the top of the year, and the second, Yes Lawd!, was a collaboration with producer Knxwledge in October.
That latter project offered a new spin on the genre, mixing in some of backpack rap's patchwork sampling and hip-hop's pimp swagger. It's lyrically whip-smart and sly in the ways it doles out its melody to its listener. It's the Madvillainy of R&B. For those who don't know what that means: Basically, it's dope and pretty much required listening.
7. Chance the Rapper, Coloring Book
Decades from now, if the system of musical labels ever shrinks to an unrecognizable fraction of its present size, like mammals after the ice age, Chance the Rapper's Coloring Book will likely seen as the meteorite that hastened that change. The Chicago emcee released his third mixtape to exuberant fanfare in May. It had an intensity rarely seen in an independent release, and it seems further proof of how effectively Chance the Rapper is changing listeners' ideas about what hip-hop and independent music can be.
The album brought listeners into a very different house of worship than many have likely ever ventured into before, filled with tie-dyed stained glass, an elastic horn section and a healthy balance of reverent and irreverent prayers. It's a Christian rap album, but one that makes God seem like a source of joy and compassion He's rarely portrayed as having in popular conversation. It's hard to listen all the way through "Blessings (Reprise)" and not be excited for what Chance's imaginative, lyrical mind will come up with next.
6. David Bowie, Blackstar
The fundamental question every critical listener must ask themselves when attempting to judge David Bowie's Blackstar is this: Would it inspire the same reverence if its creator hadn't died two days after releasing it? His death deepened the album's mystique tremendously, but I believe the answer would still be yes. Blackstar is an album only an artist like David Bowie — deeply visionary, schooled in the occult, experimental to a fault at times — could create.
The way it deftly mixes the chaotic freedom of jazz with the hallowed, dark rock 'n' roll of Bowie's Diamond Dogs days is masterful. The wizened, strained quality Bowie's voice had taken on towards the end of his life added a sense of urgency to his curtain-closing lines like "Seeing more and feeling less / Saying no but meaning yes / This is all I ever meant" on "I Can't Give Everything Away." The skittering percussion that charges throughout the album, keeping Bowie from dwelling on each devastating line, adds to this effect. 
It ends as suddenly as Bowie's life, and feels in many ways like a chaotic mirror of the amorphous artistic identity he maintained throughout his decadeslong career.
5. Kanye West, The Life of Pablo
The Life of Pablo is perhaps Kanye West's most nauseating and uneven work to date. Taken at face value, that might sound like a knock, but somehow the album's shoddy, vulgar construction only makes the album more fascinating and more of a pointed statement at this point in his career.
West's 2016 was defined by creative restlessness: two fashion lines, new shoe designs, pop up-shops, a teased presidential bid and features on projects as varied as Gucci Mane's Everybody Looking and Francis and the Light's "Friends." The album reflects this creative messiness. 
Kanye brings back the religious echoes of his first hits, such as "Jesus Walks," and attempts to mix it with the new hedonism of the Los Angeles life he's built for himself. It results in some of Kanye's most vulnerable and visionary lyricism ("FML" and "Wolves"), alongside some of his most deviant ("Freestyle 4"). In the end, it's an effective summation of the rapper's genius — iconoclastic, provocative and impossible to ignore.
4. Nick Cave and the Bad Seeds, Skeleton Tree
Nick Cave's songs have always been fascinated with death — the bloodiness, the mystery, the way it can add a period or moral onto a tale that might otherwise seem aimless entertainment. Never before have any of his albums faced the true profundity of the loss that accompanies death, until Skeleton Tree.
The album was completed while Cave was in mourning for his 15-year-old, who died after falling off a cliff near his family's Brighton, England, home. This tragedy shrouds the songs, like a choking fog one cannot simply climb to higher ground to escape. There's no running from the nameless, elegant terrors the album grapples to understand: "They told us our gods would outlive us," Cave sings on "Distant Sky." "But they lied." 
Try to really get through a single listen of this album without feeling your heart feel sodden and heavy, or without feeling the profound urge to call a friend or loved one and tell them you cherish them. Its songs are moving in the truest sense of the word and can't be unheard.
3. Solange, A Seat at the Table
Inspired by a perceived racist slight buried in a conversation between two white New York Times contributors, Solange's A Seat at the Table is a reminder of who really holds creative agency in music today. It's not the critic, it's not the label, it's not radio — it's the artist and the connection they create with their fans. 
Solange's A Seat at the Table slipped quietly into existence with little warning or advance notice. The younger Knowles sister had written an album and wanted to share it with us. The work collected stories from Solange's family and her idols, speaking to generations of black pain and the ingenious ways people have summoned resilience. These monologues appear in the album's many interludes and bleed into the sparse, wind-swept R&B. 
The songs are feather light, comforting like down and cleansing like warm rain. Nothing released this year feels a better balm to soothe the raw strain our collective nerves have endured watching inequality grow and racial violence swell again in the mainstream. Solange's quiet prayers for peace and solace were a light in that darkness, and will likely continue to be, especially now that's she officially joined R&B's chart-topping elite.
2. Bon Iver, 22, A Million
Justin Vernon feigned madness when introducing 22, A Million to the world in late September. Where his previous album artwork once offered quiet, tree-lined landscapes, his latest came covered in scrawled symbols that looked like they were lifted from the journals of an Illuminati conspiracy theorist. The music matches that clipped, paranoid, dislocated aesthetic, relying on samples digitally stretched to their breaking points and armies of saxophonists. 
It's the most beautiful music Bon Iver has ever made.
As Mic previously wrote in its review of the album, "it's attempting to do to folk what Kanye West attempted to do to hip-hop with Yeezus." It seeks to create by violating preconceptions of indie folk's standard operating procedures, to instead find beauty in dissonance. It manages brilliantly, with captivating songwriting and lyrical turns that seem random at first, but begin to accumulate meaning on each listen.
The careful listener will invariably reach a head: "Are these signs and poetic deconstructions supposed to mean something?" As soon as one asks, the question immediately feels insignificant. The songs speak volumes about the state of modern creativity without having to bother to appeal to rationality. Bon Iver is exactly where he's always been: ahead of just about everyone else in music, with secrets for days.
1. Frank Ocean, Blonde
In 2016, it's often difficult to differentiate between an earnest, intentional statement and a troll. That vagueness has redefined our attitudes towards news, towards humor and towards social media. 
Nearly every aspect of Frank Ocean's Blonde seemed eminently conscious of this widening gulf, including the silence that preceded it and the tedious staircase-building, any critique of which was immediately silenced by the "Nikes" video. 
It all led up to Blonde, an album that sounded nothing like the earnest crooning of Ocean's past triumphs. It's an album that shouldn't work. On first listen, it sounds like an album of aimless strumming, meandering songwriting that doesn't engender any immediate sort of emotional resonance or musical response in the listener. And yet, it's deeply fascinating. Its plainspoken nature make the listener sink into its world like quicksand. 
Once submerged, one can begin to see the magic: the stunning flash of melody that entire songs work to build up before the next dissolves back to square one. Each track is an idiosyncratic pictures of modern love that feels more real and personal than any other artist has offered this year. Ocean's Blonde reaches deep and speaks to so many of the questions our age has yet to answer: Is technology uniting us or dividing us? How do we honor the dead? How do we authenticate the real and discard the fake? 
It's difficult to know, but Ocean's Blonde is about as real as it gets.