SEC's ongoing Exxon Mobil probe a thorn for CEO and secretary of state pick Rex Tillerson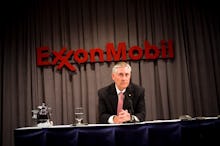 President-elect Donald Trump made official Tuesday his pick for secretary of state, Exxon Mobil CEO Rex Tillerson, a controversial business leader whose extensive ties to Russia may have already made him a long shot in the confirmation process.
Scrutiny of Tillerson's ties to Russian President Vladimir Putin is understandable given the recent announcement from the CIA that Russian intelligence was likely used to influence the election and help Trump.
Democrats argue Russia poses a threat to the United States, an allegation that would not exactly be assuaged by the appointment of Tillerson — an outspoken opponent of sanctions against Russia — to the country's top diplomatic post.
But Tillerson's reported relationship with Russia is not the only potential conflict of interest that could come under scrutiny if he is appointed.
The incoming administration will have power over Exxon Mobil, in which Tillerson holds hundreds of millions of dollars worth of stock, where he has worked since 1975 and been CEO for a decade — and where ongoing investigations are threatening the company's business.
ExxonMobil faces ongoing investigations for allegedly misleading shareholders.
The Securities and Exchange Commission — to which Trump will appoint commissioners as president — is currently investigating Exxon for misleading shareholders about the value of some of its corporate assets.
Publicly traded companies like Exxon report detailed information to their shareholders every quarter. When they do that, they're supposed to document the value of all the company's assets and liabilities.
New York Attorney General Eric Schneiderman and the SEC have accused Exxon of failing to account for key factors that would affect valuation, like historically cheap oil and increasing regulation to fight climate change. 
By not taking those trends into account — as peers such as Chevron and BP did — regulators argue Exxon may have knowingly made its assets seem more valuable to shareholders than they really were.
A class action lawsuit filed against Exxon Mobil in November similarly alleges that "as a result of the company's hyped-up statements, Exxon stock traded at artificially inflated prices," before dropping as new information came to light.
Roughly a month after the SEC probe began, Exxon hinted on a conference call reported by CNBC that it was looking into writing down the worth of some of its reserves, although it also said its previous estimates were conservative enough so that a write-down wasn't necessary.
The SEC investigation builds on an even more damning series of ongoing investigations from several state Democratic attorneys general about whether Exxon Mobil knew about the impacts of climate change for decades — but knowingly withheld information from shareholders and the public. 
Those investigations were prompted by a series of news reports that Exxon knew about the role of fossil fuels in advancing climate change as early as 1977.
If those reports turn out to be true — something Exxon flatly denies — the debacle could amount to one of the biggest corporate cover-ups on record: Noted climate change scientist Bill McKibben alleges that Exxon could be guilty of perpetuating "the most consequential lie in human history."
The stakes are high for Exxon Mobil — and that creates a worrisome conflict of interest.
With billions of dollars potentially at stake, the ongoing investigations matter.
When top executives gain high-profile political appointments, they may be incentivized to seek lighter regulation for their company — or provide favorable treatment to the business, even after officially leaving.
For example, former Vice President Dick Cheney resigned his post as CEO of Halliburton to run for vice president — but when the United States invaded Iraq, Halliburton subsidiary KBR got one of the most lucrative contracts involved with the war effort, worth $31 billion.
A subsequent Department of Defense Audit found that some $553 million should be halted due to waste and inefficiency, and in some cases even fraud. Once the war was over, Halliburton later sold the KBR to focus on its oil business. 
Trump's Cabinet selections seem to already be helping Goldman Sachs, which counts alumni of the bank among several of Trump's top choices, including his treasury secretary pick, Steve Mnuchin.
At one point since the election, roughly a quarter of the gains from the so-called "Trump bump" pushing up the Dow Jones Industrial Average was purely from a run-up in Goldman Sachs stock.
A representative from Exxon Mobil declined to comment on the record for this story when contacted by Mic. 
The spokesman instead pointed to an October conference call statement from Jeff Woodbury, Exxon's vice president of investor relations: "Rest assured we're in full compliance with the rules and standards of the SEC and the Financial Accounting Standard Bureau."