When does the 'Overwatch' Christmas event start? "Winter Wonderland" update name leaks out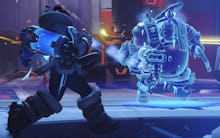 In a patch update expected later today, Overwatch will be getting a major dose of holiday spirit in the form of a new month-long event. Though Blizzard has yet to officially announce its name or any details, a sleuthy Redditor believes they've uncovered its festive title: "Winter Wonderland."
Overwatch Christmas event start time
Blizzard has not said exactly when the Christmas event will start, likely because it's a bit of an unpredictable process to roll patches out to several platforms simultaneously.
Early afternoon is probably a safe bet. Around 2 p.m. Eastern is when Overwatch's last in-game event, Halloween Terror, went live.
As soon as the patch update hits, Mic will let you know and give you the full rundown.
Overwatch Christmas update rumored title: "Winter Wonderland"
In a thread on Reddit, DixonSeilem claimed that the official Overwatch group on Russian social networking site VK posted an announcement of the holiday event with the same GIF Blizzard tweeted last week. However, the GIF posted on VK apparently had the phrase "Winter Wonderland" in its file name, leading them to believe this is the event's official title.
We will have to wait until Blizzard makes the official announcement to know for sure.
Overwatch Winter Wonderland ad appears to leak on Reddit
A post on Reddit from user Summon528 claims that a Taiwanese gaming site has an ad for the Overwatch holiday event that shows Mei in a Santa-like outfit. According to the post, the text on the ad describes a new "brawl" game mode and something about "Mei's snow fight," which could theoretically be the name of this event's special mode.
You can see the screenshot of the ad for yourself on Imgur.
More Overwatch news, updates, tips and tricks
If you're ready for more Overwatch, you'll want to check out Mic's latest Overwatch news, like the official announcement of Overwatch's holiday event, fans' best ideas for holiday-themed skins, this weird story about players debating Bastion's gender on Reddit, information on Symmetra's upcoming rework, the latest details on season 3 of competitive play and a look at the new Oasis map on the PTR.
Dec. 13, 2016, 12:09 p.m.: This story has been updated.