Today: Russia hawks in the Senate could block Rex Tillerson, Trump's Secretary of State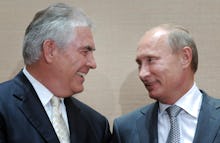 This is Mic's daily read on Donald Trump's America — and how it affects you. Welcome to America's only political newsletter that pumps oil from Russian-controlled waters.
Highlights: 
Today: It's official: Rex Tillerson is Donald Trump's pick to be secretary of state.
More: The nominee to America's top cabinet position has close ties with Russia, signaling a showdown in the Senate.
Even more: Jill Stein's recount efforts have ended. Two were blocked by court orders, and the Wisconsin recount changed fewer than 200 votes.
One more: Rick Perry is likely to be Trump's nominee to lead the Department of Energy — five years after forgetting its name when calling to eliminate it.
Where's Trump? Trump Tower in New York City, then West Allis, Wisconsin, this evening for the next "Thank You" tour rally.
Hillary Clinton's lead over Trump in the popular vote: 2.84 million votes, 2.1 percentage points greater than Trump. (Cook Political Report) 
Exxon Mobil CEO to become Secretary of State
The honeymoon between President-elect Donald Trump and Senate Republicans has ended. Since Trump followed through on reports he would nominate Rex Tillerson to become America's top diplomat, GOP senators have expressed deep concerns about Tillerson's ties to Russia. Democrats are sure to exploit the divide.
For a decade, Tillerson has managed one of the world's largest companies, Exxon Mobil. Trump's campaign has cited Tillerson's international expertise in brokering deals as the key justification for his nomination. During a period of turmoil for the fossil fuel industry, Tillerson found ways to expand into new markets — most notably Russia. That's where things get troubling for Republican foreign policy leaders like Sens. John McCain and Lindsey Graham.
While other oil and gas companies had difficulty entering the Russian market, Tillerson worked with Russian President Vladimir Putin to build a close connection with America's historical foe. Tillerson's ties with Russia go back to the 1990s, when he first began brokering the relationship between Exxon and the country emerging from its time as the Soviet Union. Since then, Tillerson has received a friendship medal from the Russian government and remained close with Putin, even as the U.S. imposed sanctions on Russia for invading Ukraine. (Mic) More on Tillerson's Russian connections and conflicts of interest below.
The math for Tillerson is simple. With the two independents who caucus with Democrats, Republicans hold a four-seat majority in the Senate. If McCain, Graham and one other senator defect (Sen. Marco Rubio said Tuesday morning he has "serious concerns" about the choice) from their party's support of Tillerson, the Senate could kill Trump's nomination early. McCain has said he will not judge Tillerson until his confirmation hearings, but also said Monday that Putin is a "thug" and "a bully." "The relationship between Mr. Tillerson and Vladimir Putin needs to be examined," McCain said. There are already reports that Tillerson's nomination may be dead on arrival in the Senate, though confirmations are often volatile and Trump's team has yet to begin lobbying Republicans for their support. More on how the politics of this could play to the advantage of Democrats below.
In the meantime, here is how Putin may be feeling today:
Why should you care about the Secretary of State?
The American election was largely about domestic issues: Immigration into the U.S., keeping jobs within American borders, rebuilding the country's infrastructure, overhauling health care — the list goes on. But any American who voted based on issues that felt closer to home than the national relationship with Russia needs to watch Tillerson's confirmation process.
At the State Department, Tillerson would be responsible for overseeing all American foreign policy. He would have a hand in trade deals, climate change accords, immigration agreements, conflict negotiations, fighting ISIS and much more. Historically, the secretary of state is also one of the president's closest advisers. Hillary Clinton was a member of Barack Obama's inner circle, and John Kerry has been a close confidant of Obama during his time at State. Tillerson's experience as an executive will likely draw Trump to his worldview.
Who else has held the position? Some of the most notable names in American political history spent time at the State Department. These include Thomas Jefferson, James Madison, William Seward (Abraham Lincoln's second secretary of state and a close adviser throughout the Civil War) and Cordell Hull (Franklin Delano Roosevelt's secretary of state for 11 years, who won the Nobel Peace Prize for helping to establish the United Nations.) More recent notable occupants include Henry Kissinger, Madeleine Albright, Colin Powell and of course, Clinton.
Tillerson's conflicts
Prepare for a new relationship between the United States and Russia. Tillerson was a key player in brokering a deal with Exxon Mobil and the Russian government in 2011. That deal would allow Exxon Mobil to invest more than $3 billion for oil extraction in areas controlled by Russia. It also gave a Russian-controlled oil company access to Exxon Mobil projects in the Gulf of Mexico, bringing Russian oil interests into the American extraction market for the first time. (Wall Street Journal)
Because who profits from Russian oil is controlled by the government, securing this deal required a great level of diplomacy between Tillerson and Putin's regime. That expertise may come in handy at the State Department. But it also causes concern for American foreign policy experts, wary of Russia, who see the deal as Tillerson acting unilaterally for the benefit of Russia and his company, ignoring the tense relationship between the two nations. 
Here's where it gets interesting. After Russia annexed Crimea following conflict in Ukraine, the U.S. imposed sanctions on Russia. These sanctions, which Tillerson has criticized, hurt Exxon Mobil's business relationship with Putin. One deal that was scuttled: Exploration of oil in Siberia that could be worth tens to hundreds of billions of dollars. (New York Times) It is undoubtedly in Tillerson's financial interest to roll back U.S. sanctions on Moscow and allow drilling to commence, given his $233 million stake in Exxon Mobil. (Mic) That money could be divested tax-free, but Tillerson has yet to indicate he would forgo stock in his company that could rise in value if the U.S. relationship with Russia improves.
The Kremlin has already publicly signaled an OK toward Tillerson leading American diplomacy. Putin's spokesman praised Tillerson as "professional" and said Putin had worked with him several times. (Reuters) And with a slight to the Obama administration, Putin said Tuesday that "we cannot but support" Trump's goal of normalizing the American-Russian relationship, adding he is ready to meet Trump "at any moment." (Bloomberg) Read more from Mic about Tillerson and his conflicts of interest.
For his part, Trump is excited about Tillerson:
Rick Perry to become head of department he could not remember. (Yes, really.)
Former Texas governor and Republican presidential candidate Rick Perry is reportedly Trump's pick to become secretary of energy. (Mic) Like other Trump administration nominees, Perry has a history of questioning the role of the agency he will now lead. First off, Perry said during his 2012 presidential run that he did not believe research into the existence of climate change had been "settled yet." (MSNBC) He has also called global warming a "contrived, phony mess." In another 2012 debate, Perry famously said he would eliminate three government agencies, but could only name Commerce and Education. The third agency, which Perry could not remember? Energy.
News and insight you cannot miss: 
 — Despite criticism from some Republicans, Tillerson has already scored two major GOP foreign policy votes of confidence. Former Defense Secretary Bob Gates and former Secretary of State Condoleezza Rice voiced their support on Tuesday. (Politico) Senate Majority Leader Mitch McConnell also supports his nomination. 
 — The call for a probe into Russian hacking and the U.S. election continues to grow in volume. On Monday, McConnell said he backed an investigation into the alleged hacking. That followed reports he privately questioned intelligence saying Russia hacked to help Trump. He joined McCain, Graham, Chuck Schumer and Jack Reed. (CNN)
 — Trump has postponed a press conference he promised to hold Thursday about conflicts of interest surrounding his businesses. But on Tuesday morning, Trump said that he would leave his businesses in the hands of his sons, Eric and Don, before he takes office on Jan. 20. "No new deals will be done during my term(s) in office," Trump tweeted. He had taken heat after his election over concerns he would as president oversee numerous deals and regulations that affect his business interests.
 — The recounted votes are in — and Trump's margin of victory grew. The Republican added 162 votes in Wisconsin, while recount efforts led by Green Party presidential candidate Jill Stein in Michigan and Pennsylvania were blocked by court orders. (Mic)
 — The road for Trump's cabinet nominees will be rough, with the billionaires and millionaires Trump wants to run the government facing close scrutiny from senators. In some cases, these wealthy Americans will have to turn over tax returns and other financial information to clear the confirmation process. Note that sharing a tax return was not something Trump did during the campaign. (New York Times)
A view from Trump country: How will Tillerson play among Trump supporters?
For all the criticism Trump's pick of Tillerson has taken from Washington, the nomination is not likely to derail public opinion among Trump supporters. Before Russian hacking was a major theme in the American election, Trump's ties to Russia were documented in the media. The Republican presidential nominee said he would strengthen America's relationship with the Russians, displaying strength to Putin in a way Obama never did. Reports that the Russians were hacking the Democratic National Committee and Clinton campaign officials specifically to benefit Trump came out in the past few days. But knowledge that the Russians were behind the hacking — which, regardless of their intention, was clearly benefiting Trump — was public for weeks before the election.
In February, 65% of Americans told Gallup they had an unfavorable view of Russia, among the highest rating in 25 years. And while the Wall Street Journal wrote in mid-August that "Russia emerges as a campaign issue that can't be ignored," the activities of the Kremlin never caught fire in the 2016 election. The fact remains that on the issues, Trump voters widely disapprove of how Obama has handled issues connected with Russia. According to exit polls, the vast majority of voters who believed the fight against ISIS was not going well voted for Trump. Those polls also show foreign policy expertise was less important to Trump voters, while terrorism was more important. Trump supporters viewed him as a candidate who would be tough on ISIS and foreign policy in general, with little attention to his views on specific relationships or potential conflicts of interest. Tillerson's nomination seems unlikely to change that.
The loyal opposition: Tillerson's pick presents an opportunity for Democrats
Tillerson represents a golden opportunity for Democrats to score an early, if potentially symbolic, victory over Trump. Given their minorities in both houses of Congress, Democrats will find it difficult to stall much of Trump's agenda. And because Harry Reid changed the Senate rules to combat Republican obstruction under Obama, Republicans only need 50 votes to confirm a cabinet nominee. Yet reports that McCain, Graham, Rubio and other Republican senators are skeptical of Tillerson will give Democratic Leader Chuck Schumer a chance to scuttle Trump's most visible cabinet nominee.
Meanwhile, Obama's labor secretary will reportedly challenge Keith Ellison for leadership of the Democratic National Committee. (New York Times) Thomas Perez, a civil rights lawyer of Dominican descent, would be the assumed pick of the Obama White House, which has not thrown its support behind Ellison in the way progressive leaders like Sens. Bernie Sanders and Elizabeth Warren have. Perez is a more serious contender than Howard Dean, the former committee chairman who initially ran against Ellison before dropping out, and will have substantial support among establishment Democrats. But Perez comes from the Democratic administration that was just soundly rejected by middle America in the election, a move that Ellison supporters could argue would further alienate voters who fled Democrats for Trump.
Snippets
 — How Donald Trump's business ties are already jeopardizing U.S. interests. The latest must-read deep dive into Trump's web of business conflicts. (Newsweek)
 — Here's how Donald Trump's tweets move markets — by billions of dollars. (Mic)
 — Another Goldman Sachs addition to the Trump administration: Gary Cohn to lead the National Economic Council. (Mic)
 — Donald Trump could be getting his Trump TV — as a state-run channel. The Voice of America has an audience of more than 230 million people worldwide. (Mic)
Stay up-to-date on America's changes under President-elect Donald Trump with this newsletter. Every weekday we'll cover the biggest Trump news and how Americans have supported him, opposed him and more. Subscribe here.