7 powerful photos protesting Donald Trump that Facebook didn't want you to see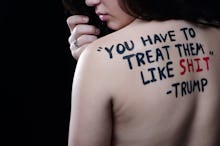 Aria Watson, who attends Clatsop Community College in Oregon, wanted to make a powerful statement about President-elect Donald Trump's misogynistic words by turning them into a work of art. 
So for her final project for her introduction to photography class she created the #SignedByTrump series, Buzzfeed News reported. The photo series features women — their faces not shown — with Trump's offensive words painted on their bodies in big black and red writing. One photo features the phrase "grab 'em by the pussy," which he said in footage that leaked in October.
Other comments were directed toward some high-profile women including Fox News host Megyn Kelly, who he said had "blood coming out of her wherever." He also said model Heidi Klum was "no longer a 10."
"When Donald Trump won, my heart shattered for me, and for everyone in this country," Watson told Mic. "I am afraid that people are going to look up to Donald Trump and think it's okay to act like him. I am afraid that being sexist and just plain rude is going to become a social norm. "
Watson said she was surprised and honored that her photos went viral. While Watson said she didn't think she'd receive all of this tremendous feedback, she's still disheartened that this photo series had to be made in the first place. 
"Part of me is very sad that this is a reality, and that I had to make these photos," Watson added. "But the other part of me is happy to know I am not alone. Now, more than ever, we need to come together as one. We are stronger and louder together."
Facebook and its subsidiary Instagram initially removed her photos from their social media sites, but then restored them and provided an apology to Watson. 
"As we recently said, we are beginning to allow more items that people find newsworthy, significant, or important to the public interest — even if they might otherwise violate our standards," a Facebook spokesperson told Mic in an email.
Watson's photos can also be found on Tumblr or on Twitter under the hashtag #SignedByTrump. 
"All I wanted from these photos was to help people realize who Donald Trump really is, and I just want to feel heard," Watson told Buzzfeed News. "I know most people are set on their opinions about Trump, but I just hope one person sees #SignedByTrump and it opens their eyes."
Dec. 14, 2016, 2:34 p.m.: This story has been updated.