Kanye West update: Rapper visits Trump Tower following hospitalization and divorce rumors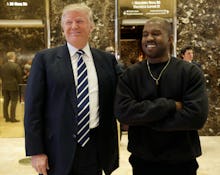 It seems like the beginning of a deranged twist on the "horse walks into a bar" joke: Kanye West walks into Trump Tower. We have no idea what the punchline will be.
Early Tuesday, members of the press spotted the rapper entering Trump Tower accompanied by a camera crew to meet with the president-elect. According to the Fader, the two had arranged a 15-minute sit down, though none of Trump's representatives have revealed what the meeting was about.
The Donald Trump transition saga grows more mystifying by the day. 
What did West and Trump discuss?
According to a seemingly impromptu press conference, broadcast on CNN, the two simply discussed "life."
"We've been friends for a long time," Trump said. "We discussed life."
Reporters directed a few questions West's way as well, regarding his plans to run for president in 2020 and whether he is considering performing at the inauguration. He refused to answer both with a stony, disinterested face. 
"I'm just here to take a picture," he said.
What is "life"?
As most fans likely remember, West was recently hospitalized following a breakdown stemming from exhaustion. He was released on Nov. 30 after a little over a week of observation. That hospital stay was bookended in part by West's fondness for Trump. 
During West's last two Saint Pablo tour dates before its ultimate cancellation, the emcee expressed his admiration for Trump's campaign, calling it "absolutely genius." Now, in one of his first public sightings (following West's visit to the Museum of Contemporary Art in Los Angeles Thursday, where fans first caught a glimpse of his new blond hair), he's gone to pay homage to the the president-elect himself.
Seeing the two side by side was horrifying to many in the Twitterverse. It coaxed out dark, existential questions from users — What is life? What is happening? — alongside merciless digs at the president-elect and his new rap stooge.
Fans came up with plenty of theories as to why this meeting took place. One of the main ones? Distraction. Users pointed out that Trump's Kanye meeting was trending above the ongoing atrocities in Aleppo, in addition to the news regarding the president-elect's habit of refusing intelligence briefings.
West may have some rumors he's looking to distract fans from as well. Divorce rumors between he and Kim Kardashian West continue to swirl, despite a lack of direct statements on the matter coming from either party. 
Whatever stems from their meeting, it should be noted Trump still has yet to confirm an act for his inauguration. West's "Monster" or "Black Skinhead" would make excellent musical introductions for the next four years.
Correction: Dec. 14, 2016