8 million Cuisinart food processors recalled after reports of blades breaking off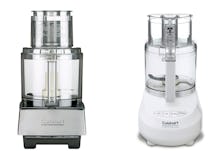 Food processors are a must-have appliance for anyone keen on whipping up their own nut butters, pesto and dreamy ice creams. But those with a Cuisinart food processor should check their appliance before wrecking their recipe — and possibly their dental work. 
On Tuesday, Conair and the United States Consumer Product Safety Commission announced a recall of 22 Cuisinart food processor models. The CPSC described the hazard as having to do with the appliance's blade. "The food processor's riveted blade can crack over time and small metal pieces of the blade can break off into the processed food," the CPSC website states. "This poses a laceration hazard to consumers."
Conair, the manufacturer of Cuisinart's food processors, received 69 reports from consumers who found pieces of a metal blade in their processed food, including 30 reports of cuts in the mouth or damage to teeth. 
The recall doesn't affect only modern models of the food processor: 22 different styles of the appliance that were sold between July 1996 and December 2015, ranging in price between $100 and $350 when purchased, are considered a potential risk to consumers. 
How to tell if your Cuisinart food processor is part of the recall
The CPSC advises consumers to check the model number of their appliance, which is located on the bottom of the food processor. Model numbers that begin with the codes below are included in the recall:
CFP-9, CFP-11, DFP-7, DFP-11, DFP-14,  DLC-5, DLC-7, DLC-8, DLC-10, DLC-XP, DLC-2007, DLC-2009, DLC-2011, DLC-2014, DLC-3011, DLC-3014, EV-7, EV-10, EV-11, EV-14, KFP-7 and MP-14. 
Only Cuisinart food processors with four rivets in its blades are included in the recall. The blades are "silver-colored stainless steel and have a beige plastic center hub," according to the CPSC.
How to return your Cuisinart food processor blade
Consumers should stop using their Cuisinart appliance immediately if it is listed in the recall, the CPSC reported. Those with an affected blade can receive a free replacement blade by contacting Cuisinart at 877-339-2534 from 7 a.m. to 11 p.m. Eastern Time Monday through Friday, and from 9 a.m. to 5 p.m. Eastern Time Saturday and Sunday, or online at www.cuisinart.com.