When will the 'Rogue One' review embargo be lifted?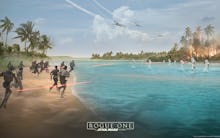 One of the most highly anticipated films of 2016 is now only days away. Rogue One: A Star Wars Story will hit theaters nationwide Friday, but reviews are still being held under a tight embargo.
With a projected domestic weekend gross of over $130 million and early reports of ticket sites crashing, viewers are not waiting for positive reviews to determine whether they will see the movie. For those who are curious to see what the critics think of Rogue One, you will have to wait just a bit longer until Disney's review embargo is lifted. 
The first of the Star Wars anthology films focuses on the mission to steal the blueprints to the Empire's greatest weapon: The Death Star.  While the lucky few who attended the premiere screening of Rogue One have already taken to social media to voice their appreciation of it official reviews will not be available until Dec. 13 at 5 p.m. Eastern, according to Business Insider. 
Business Insider reported that Disney has sent out quite a few review guidelines asking that the press "refrain from revealing spoilers and detailed story points." Thus, it should be safe for fans to check in on social media and review sites in the next few days before seeing Rogue One. Still, if you are not a fan of spoilers, be very vigilant. 
Mic has ongoing coverage of Rogue One: A Star Wars Story. Please follow our main Rogue One hub here.