Why was 'Marco Polo' canceled? Netflix budget may have played a role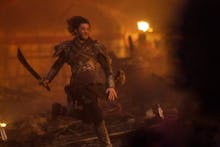 After just two seasons, Marco Polo will not be returning for a third. The Netflix original series will now join other axed Netflix programming such as Bloodline, Lilyhammer and Hemlock Grove.
Why was Marco Polo canceled?
Set in 13th-century China, Marco Polo starred Lorenzo Richelmy as famed Venetian explorer Marco Polo and Benedict Wong as Mongolian ruler Kublai Khan. In a low-key attempt to compete with a costly epic like HBO's Game of Thrones — whose per-episode price tag is estimated to be $10.4 million — the original streaming juggernaut devoted $90 million to Marco Polo's season-one budget. Unfortunately, the vision for Marco Polo turned out to be far bigger, ultimately costing Netflix a reported loss of $200 million.   
Despite a big budget and lavish production, it's likely Netflix's $200-million bill was only one of many factors leading to the show's demise. With the exclusion of Orange Is the New Black, Netflix has declined to release viewership numbers for Marco Polo and other original series. The streaming site claims to care more about subscription numbers than viewership data. That being said, the show also failed to receive a warm welcome from critics upon its 2014 release. For example, Grantland's Andy Greenwald called the series a "sloppy, clattering mess."
Fortunately, Netflix has plenty of other original programs for your binge-watching pleasure. A Series of Unfortunate Events and Iron Fist will both premiere their first seasons in 2017; season two of Sense8 will also hit the streaming site in the new year.