Congressman's tweetstorm expertly sums up Rex Tillerson's conflict of interest with Russia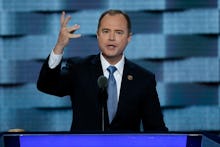 President-elect Donald Trump officially nominated Exxon Mobil Corp. CEO Rex Tillerson for secretary of state Tuesday, a decision that has Republicans and Democrats alike up in arms, because of Tillerson's close ties to Russia.
Through his leadership of Exxon Mobil, Tillerson has strong business and financial ties to Russia, an oil-rich nation that has a historically strained relationship with the U.S.
And with Russia accused of meddling in the U.S. election to help elect Trump, those ties could cause even more problems for Tillerson — first in the Senate confirmation process and then while actually doing his job, should he be confirmed.
U.S. Rep. Adam Schiff, a Democrat from California, perfectly painted that picture in a Tweetstorm Tuesday after Tillerson's nomination.
Schiff first said that the Russian government was "celebrating" the night Trump was elected, and added that they were continuing their celebration with the nomination of Tillerson.
Schiff pointed out that Tillerson is close with dictatorial Russian President Vladimir Putin, who gave Tillerson the Order of Friendship, one of the top honors the country gives out to non-Russian citizens. 
"How will friend of Putin & recipient of one of Kremlin's highest honors fight to maintain sanctions on Russia over its invasion of Ukraine?" Schiff tweeted, referring to Russia's illegal annexation of Crimea.
Schiff also pointed out that Tillerson's finances are closely tied with Exxon's business interests in Russia. 
In his tweets, he asked how Tillerson could responsibly handle the sanctions that the U.S. and European Union have placed on Russia for its annexation of Crimea — sanctions that Tillerson said Exxon was anxious to have lifted.
"How will he take actions that may damage the interests of the oil company he has served for most of his life?" Schiff tweeted.
Schiff also pointed out that as an oil executive, Tillerson could have trouble addressing climate change, given Exxon's interests in oil production and drilling.
"How will someone whose primary focus has been the expansion of oil production champion efforts to address climate change?" Schiff tweeted.
Schiff isn't the only member of Congress who has expressed skepticism over Tillerson's nomination.
Two GOP Senators, who will be tasked with voting on whether to confirm Tillerson as secretary of state, expressed strong doubts.
Sen. Marco Rubio said in a statement that he has "serious concerns" about Tillerson.
"The next secretary of state must be someone who views the world with moral clarity, is free of potential conflicts of interest ... and will be a forceful advocate for America's foreign policy goals to the president, within the administration, and on the world stage," Rubio said, suggesting Tillerson's ties to Russia may be a conflict.
Sen. Lindsey Graham, a vocal Trump critic, also expressed doubts.
"Based upon his extensive business dealings with the Putin government & previous opposition of efforts to impose sanctions on the Russian government, there are many question which must be answered," Graham tweeted about Tillerson.