Who is Riz Ahmed? Meet the 'Rogue One: A Star Wars Story' actor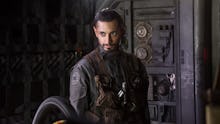 Star Wars fans will once again travel to a galaxy far, far away on Dec. 16 as Rogue One hits theaters. Rogue One tells the story of an operation Star Wars fans already know well: The mission to steal the Death Star's design plans. While the central hero will be Felicity Jones' Jyn Erso, Rogue One features a stellar ensemble cast, including one of this year's breakout stars, Riz Ahmed. 
Ahmed, who plays Rebel Bodhi Rook, has had quite a busy year, to say the least. In addition to his role in the upcoming Star Wars film, Ahmed starred in the critically acclaimed HBO miniseries, The Night Of, for which he just secured a Golden Globe nomination, and had a supporting role in the Matt Damon-starring Jason Bourne. 
The actor, who broke into the Hollywood mainstream after his critically lauded supporting role in the Jake Gyllenhaal-starring Nightcrawler, recently spoke with Variety about his crazy 2016. 
It has felt like a whirlwind to be honest, because I haven't really had to do press like this before. All these projects came out around the same time, which is kind of interesting because prior to this year I had never done a studio movie; 'Nightcrawler' was on a lower scale. While I was shooting 'Rogue One' they happened to offer me 'Bourne,' so after the 'Rogue' shoot, I went to do that. I guess it is kind of funny and insane that I don't do projects like these in London, and then three of them come out all at once.
While Ahmed considers himself a fan of Star Wars, his experience with Rogue One has enlightened him to the true extent of the franchise's fan base. As such, the actor noted, "I'm definitely a fan, but I use that word lightly now that I have seen the extent of Star Wars fandom. I am a fan, but I feel like that's almost insulting to the superfans that I've seen."
The actor also spoke with CBC News, explaining how surreal it is to be a part of such a large film franchise.
"I just couldn't believe it. Yeah, straight up! I had to pinch myself — still not sure it's fully sunk in. Hopefully it'll sink in by the time the movie opens."
While Ahmed's schedule appears to be pretty open following Rogue One, the Hollywood Reporter announced over the summer that he was writing a passion project "set around three generations of British-Pakistani family in the U.K., starting in the 1980s and ending up about now."
Outside of acting, Riz Ahmed is a rapper under the moniker Riz MC. You can catch Ahmed in Rogue One starting Dec. 16. Jason Bourne is currently available to rent or own. 
Mic has ongoing Rogue One: A Star Wars Story coverage. Pleas follow our main Rogue One hub here.