When will 'This Is Us' return? Find out when to catch the Big Three in 2017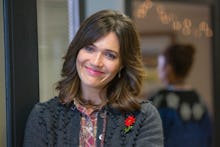 Leave it to This Is Us to leave audiences on a devastating cliffhanger in its midseason finale – tears and all, of course.
This Is Us will not air Tuesday night. Instead, the series returns to NBC from its holiday hiatus Jan. 10. That's when fans will find out what happened to Toby. 
In the midseason finale, directed by Helen Hunt, the episode ended with a shocking scene. After waking up from a nap and noticing he was all sweaty, Toby unexpectedly collapsed on Christmas Eve in front of Kate's family. He was rushed to the hospital, where doctors attempted to save his life.
In an episode of This Is Us Aftershow, the cast discussed Kate's relationship with Toby. Kate had finally put herself first and when Toby showed up to surprise her in "Last Christmas," it was a moment of realization for both of them. 
In an interview with E! Online, Golden Globe nominee Mandy Moore shared details on the show's midseason premiere. "I can tell you that the next episode picks up right where we left off," Moore spilled. It sounds like the show won't leave us in suspense about what happened to Toby after his heart attack. 
The Golden Globe-nominated This Is Us returns at 10 p.m. Eastern Jan. 10 on NBC. 
Monday, Jan. 8, 12:20 p.m. Eastern: This story has been updated.