Drug use is falling among teens, new study says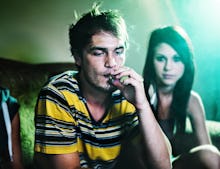 Despite what any episode of Skins might lead you to believe, drug use has been steadily falling among teenagers since 1975, according to a new study from the National Institute on Drug Abuse.
The report surveyed 45,000 high school students, focusing on eighth graders, sophomores and seniors in 372 public and private schools across the country, according to BuzzFeed News. Aside from marijuana — which continues to be legalized or decriminalized in a number of states, albeit for adults 21 or older — teens' use of heroin, cocaine, meth, inhalants and ketamine is at a record low.
"What we had predicted 15 years ago was that [teen drug use] would stabilize, and yet every year they have continued to decrease," Nora Volkow, the Institute's director, told BuzzFeed. 
The report says the use of alcohol dipped in 2016 as well as part of a "longer-term decline," with binge drinking — also known as having more than five consecutive drinks — seeing a 50% decrease since the 1990s. 
Among teens, cigarette smoking rates also declined, mirroring a broader trend across demographics in the United States.
These revelations come at a point when heroin and opioid epidemics are at an all-time high for adults, claiming over 30,000 lives in 2015 — more than gun homicides did in the same year, according to the Washington Post. 
"The epidemic of deaths involving opioids continues to worsen," CDC Director Tom Frieden in a statement reported on the Post last week. "Prescription opioid misuse and use of heroin and illicitly manufactured fentanyl are intertwined and deeply troubling problems."
Researchers are working to determine where the disconnect is as adolescents enter adulthood.
"We don't see these good numbers that we are observing in teens, in adults," Volkow told BuzzFeed. "Something is delaying it in teenagers, but whatever is protective is no longer relevant as teens go into college."