'Yooka-Laylee' release date and price announced for PS4, Nintendo Switch launch confirmed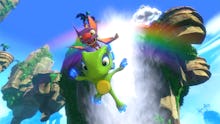 Yooka-Laylee finally has an official release date and price across all platforms — except for the Nintendo Switch. The game's developers announced the news Tuesday in an update to the game's Kickstarter page, which hit its original crowdfunding goal in just 38 minutes.
In case you missed all the excitement, here's a quick recap. In 2015, former developers at Rare — which developed games like Banjo-Kazooie, Perfect Dark and Viva Piñata — announced they had joined forces in a new studio called Playtonic Games and were working on a spiritual successor to Banjo-Kazooie. The project's name, Yooka-Laylee, is a combination of the two main characters' names.
Yooka-Laylee release date and price for PS4, Xbox One, PC, Mac and Linux
Yooka-Laylee will be available for PS4, Xbox One, PC, Mac and Linux beginning April 11, 2017. The cost is $39.99 for non-Kickstarter backers.
Yooka-Laylee update on Wii U/Nintendo Switch
Originally, Playtonic had also planned to release Yooka-Laylee on Wii U, but "unforeseen technical issues" caused them to change course, according to the Kickstarter update. Though the Wii U version of Yooka-Laylee has officially been canceled, the company is now working to bring the game to Nintendo's forthcoming console, Nintendo Switch.
The company blamed the cancellation on "unforeseen technical issues" which made it "impossible" to release the game for Wii U. Playtonic hasn't revealed an official release date for the Nintendo Switch version but promised it would have "more details to share early next year." It's unclear if this means the game won't be coming to Nintendo's new console until after April 11, but we're guessing that's the plan based on Playtonic wording.
New Yooka-Laylee gameplay trailer
In addition to the release date and price information, the Kickstarter update also revealed new gameplay footage of a cool world called Capital Cashino, featuring giant dice, golf balls and gambling machines.
Mic will keep you posted as more information about the Nintendo Switch version of Yooka-Laylee becomes available. 
More video game news, updates, tips and tricks from Mic:
For more video game news, check out the latest rumors surrounding Overwatch's holiday event, Pokémon Go's latest update, information on the release of Super Mario Run and a new look at the upcoming remaster of Crash Bandicoot for PS4.