Nintendo Switch Presentation 2017: Release date, games and price reveal coming next month?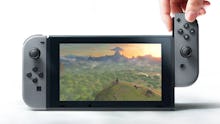 Nintendo Switch hype is quickly growing, even though the new console won't launch until March 2017. We still don't know the console's release date, price and a bunch of other key details, but we should be getting that information pretty soon.
On Tuesday, the company trumpeted on Twitter the date for the Nintendo Switch presentation, Jan. 12, 2017. The date had been revealed in late October during a presentation for investors, so fans might not have noticed. Nintendo of America likely only had its fans in mind when it reiterated the Nintendo Switch presentation date, where we will hopefully get the answers to a bevy of questions.
Nintendo Switch presentation 2017: Time, livestream and everything we know so far
The Nintendo Switch presentation will take place at 11 p.m. Eastern (8 p.m. Pacific). You'll be able to watch it live on Nintendo's website. 
Here's what we know about the console so far. The Nintendo Switch is built for on-the-go play and seamless switching between television and Switch screen while playing a game. It has new input devices called Joy-Con controllers and a March 2017 release date.
That's all we know for sure. Information like price and game selection at launch is entirely in the realm of speculation. The price is expected to be revealed at the Jan. 12 event according to Nintendo president Tatsumi Kimishima, who shared the information during the investor presentation.
As for the Nintendo Switch games lineup, we still have plenty of questions. Will there be a new Mario game on the day the Nintendo Switch is released? Will Seasons of Heaven be a true Nintendo Switch exclusive or a timed exclusive? Will there be backwards compatibility? Does the price leak reported in mid-November actually hold any water? Is a t-shirt worn on The Tonight Show a hint about a Switch game? Who the hell knows besides Nintendo?
Nintendo Switch presentation: How to get your hands on the system before March 2017
Kimishima, during the aforementioned presentation, also revealed that hands-on events would be held for press, Nintendo partners and players after the Jan. 12 presentation.
We don't have any other information on those events, either, but keep an eye out for any announcements after Jan. 12. Maybe you can get a chance to play with the Nintendo Switch before it's actually released!