What's next for 'Star Wars' after 'Rogue One' hits theaters?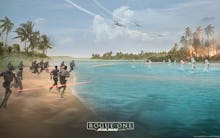 Star Wars fans, the wait is almost over! On Dec. 16, the story of how the Rebel Alliance stole the Empire's Death Star plans will be hitting theaters nationwide with the release of Rogue One: A Star Wars Story. Rogue One is just the first of several planned anthology films that were announced subsequent to the purchase of Lucasfilm by Disney in 2012. 
While the Star Wars franchise fell into a mild slumber following the 2005 release of Revenge of the Sith, the film series awoke in a big way with Star Wars: The Force Awakens. The first film of the sequel trilogy went on to set several box office records, including largest opening weekend ($247 million) and highest domestic total ($936 million). 
Rogue One is not expected to reach quite the same heights as The Force Awakens, but is still projected to earn roughly $140 million domestically in its first weekend of release. With fan excitement towards the Star Wars franchise still through the roof, Disney and Lucasfilm are not allowing much time to elapse between films.
Here's what's next for the Star Wars franchise following the release of Rogue One. 
There will be a Star Wars film each year.
Starting with 2015's The Force Awakens, Disney's plan is to release a Star Wars film each year through 2020. Following Rogue One, the next film will be the continuation of the Skywalker saga in the as-yet-untitled Star Wars: Episode VIII. 
Star Wars: Episode VIII (December 15, 2017)
Star Wars: Episode VIII is currently slated for a December 15, 2017 release date. This will be the third straight Star Wars film to be released the weekend before the Christmas holiday. The plan was originally to release Episode VIII in May of 2017, but following the massive success of The Force Awakens, Disney decided to return to the December weekend that worked so well. 
Star Wars: Episode VIII is written and directed by Looper's Rian Johnson, and the film is set to feature Mark Hamill's Luke Skywalker in a larger role than we saw in The Force Awakens. In addition to the saga's returning actors, Benicio Del Toro and Laura Dern joined the cast in unspecified roles. 
Untitled Han Solo Star Wars Anthology Film (May 25, 2018)
Following Rogue One, the next installment in the series of Star Wars anthology films will be the untitled Han Solo film, currently slated for a May 25, 2018 release. While this is pure speculation, do not be shocked if Disney decides to move this film to December 2018 if Rogue One meets or exceeds box office expectations. 
The Han Solo film will be directed by 21 Jump Street helmsmen Phil Lord and Chris Miller, while Alden Enrenreich will play the titular character. Donald Glover recently signed on to play the young Lando Calrissian, with Game of Thrones' Emilia Clarke being tapped as the female lead. 
Star Wars: Episode IX (2019)
As Star Wars: Episode IX is still several years away, very little is known about the final film in the sequel trilogy. What we do know is that the film will be directed by Jurassic World helmsman Colin Trevorrow, and it was announced several weeks ago that Trevorrow has opted to shoot Episode IX on 65 mm film. The Force Awakens and Episode VIII were both shot on 35 mm film. 
The choice to shoot on 65 mm film should give Episode IX a hyper-realistic look, which is pretty cool for a space opera. IMDb currently lists Episode IX's release date as May 24, 2019, but it would not be all that surprising if the sequel trilogy's finale assumes a December release date as well. 
Untitled Anthology film (2020)
There is essentially nothing known about the third Star Wars anthology film outside of a planned 2020 release date, and the fact that Disney CEO Bob Iger recently announced that they have hired a writer, as Deadline reported. Fans have speculated that this could be anything from an Obi-Wan spinoff to a prequel following the bounty hunter Boba Fett. Either would be awesome. 
The actor who last played Obi-Wan, Ewan McGregor, has noted in the past that he would be open to returning to the role:
Star Wars films beyond 2020
While there are currently no announced Star Wars films beyond 2020, it is likely that that will change as the previously mentioned films are released. Disney's Star Wars franchise is too much of a cash cow for them not to plan additional entries, essentially into perpetuity. Whether there will be a continuation of the main saga or just further anthology films is one burning question that will eventually need answering. 
The New York Daily News reported over the summer that Disney signed Alden Ehrenreich to a three-picture deal. We thus can likely expect to see more of Han Solo if the currently untitled anthology film proves successful at the box office. 
Star Wars on television
Currently, the only still-airing television series that is canon is Star Wars Rebels. Rebels, which is currently in its third season on Disney XD, is set between Revenge of the Sith and Rogue One, and has received generally favorable reviews from fans and critics alike.
Could there be a primetime Star Wars series? 
While there have not been any concrete announcements regarding a possible live-action Star Wars television series, Entertainment Weekly reported over the summer that ABC was in talks to make such a show a reality. 
ABC Entertainment president Channing Dungey spoke of the ongoing talks, stating, "Oh, as a fan, I would absolutely love to say 'Yes.'" 
"I think it would be wonderful if we could find a way to extend that brand into our programming," Dungey added.
Dungey's comments came at the Television Critics Association's press tour, after which she stated that "It's all a little bit hush-hush ... [that] company exists under a big shroud of secrecy. If you feel Marvel's secretive, [Lucasfilm] takes it to a whole other level ... [Talks] are ongoing. We don't have an official timeline yet."
While Dungey did not elaborate on whether the proposed series would be animated or live-action, the expectation would be that ABC is interested in live-action programming. 
Star Wars in other media
Following Rogue One, fans of all things Star Wars have plenty of options to satisfy their appetite in media outside of film and television. 
Video Games
Fans of the Star Wars Battlefront video game may be excited to learn that there is some downloadable content that ties in with Rogue One. 
Gamespot recently announced that Star Wars Battlefront is currently available for free on Xbox One from the EA Access free game vault, while the Rogue One: Scarif DLC was released on Dec. 6. 
Comics and Novels 
Star Wars fans can also add to their knowledge of the franchise's canon by reading the following:
- Star Wars: Doctor Aphra (issue #1 released December 7, 2016)
- Star Wars: Aftermath: Empire's End (novel will be released on February 21, 2017)
- Darth Maul (comic set for a February 2017 release)
Mic has ongoing Rogue One and Star Wars coverage. Please follow our main Rogue One and Star Wars hubs.