The internet re-writes Kanye West's catalog following his meeting with Donald Trump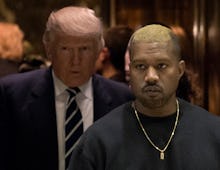 Tuesday morning, Kanye West met with Donald Trump in a brief, private meeting. Tuesday afternoon, the internet ate its own head.
After West was spotted heading into Trump tower for a brief meeting, the internet started rabbling like a Parliament meeting gone haywire. According to Trump, the two simply "discussed life." Kanye likely got a chance to repeat his pre-hospitalization assertion that Trump's presidential campaign was "absolutely genius." Trump maybe gave some hair care tips to the newly blonde rapper. But the internet suspected far worse.
Their meeting had huge swaths of interested commenters calling for yet another #KanyeIsOverParty. It had other commenters whistleblowing, calling for renewed vigilance in regards to Trump's movements today, as if the president-elect urgently needed to direct media attention away from other matters. 
No one man should have all that power. 
A third block found nothing but sardonic glee in the meeting between two men who, on paper, should not get along. West has spent a large portion of his career attempting to dismantle the country's lingering racism, arguing for a stronger minimum wage and encouraging people to love and understand one another's struggles. The president-elect campaign has done little but insult and ignore these issues throughout his campaign.
In response, brands and fans have been re-writing Kanye West's catalog to reflect his new political convictions. They're good for a grim laugh or a glimpse at West's alt-right, alt-hip-hop future, depending on how much you stock you put in the two's odd chumminess.
Kanye West's The College Dropout is now...
West's My Beautiful Dark Twisted Fantasy...
New lyrics for West's "So Appalled"...
New lyrics for "I Love Kanye"...
A new title for "Ultralight Beam"...
A new national anthem...
Mic has ongoing Kanye West coverage. Please follow our main Kanye West hub.