Is 'Super Mario Run' going to be free? How Nintendo's no-cost download actually works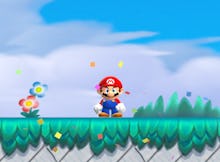 The Super Mario Run release date is almost upon us. On Dec. 15, if you've opted to receive a push notification when the app becomes available, the Super Mario Run price field will change from its current iteration of "Notify" — meaning the game is available for immediate (and free) download from Apple's App Store before you have to pay to unlock the full experience.
That's where some gamers may reject Super Mario Run. Many are annoyed the game has a $9.99 price tag and won't be fully accessible at no cost. If you're one of those people, we have good news and bad news.
Is Super Mario Run going to be free? How to download the game
Beginning Dec. 15, users can immediately download the 370 MB Super Mario Run app at no cost from Apple's App Store. But there's a catch.
While the main version of the app can be downloaded for free, that only gets you a short demo version of Super Mario Run. There's still no official word on how many levels this version will include or whether it will be a carbon copy of what we played at Apple's store. If it's exactly like that demo, gamers can look forward to playing the first three levels for free, along with a brief sample of the fourth level. 
After that, Super Mario Run players will have the option of paying $9.99 to gain access to the full title.
Is Super Mario Run going to be free? No, but here's why that's a good thing
Nintendo's method for charging users to play Super Mario Run is no accident. Apple is known for not allowing trials or beta software in the App Store, which means the only way Nintendo can get this game on players' phones and tablets for free is by offering the actual game itself. The company's solution is to provide the full version of the game as an in-app purchase.
Of course, Nintendo could offer players the option to purchase Super Mario Run in smaller, cheaper increments. Many titles on the App Store rely on continuous in-app purchases to make money, but even popular games like Pokémon Go can lead to a bad experience when the game constantly tries to convince users to hand over more cash. Nintendo's decision to charge a one-time $9.99 fee to unlock the whole of Super Mario Run takes the annoyance out of using in-app purchases.
However, these prices are always subject to change. For now, Super Mario Run may be free to download with a $9.99 unlock cost, but Nintendo could always drop the price for a holiday or some other promotion. Those looking to spend less will have to keep their fingers crossed and hope for a future discount.
More Super Mario Run news and updates
If you want to know more about Super Mario Run, walk calmly toward's Mic's latest coverage, like our review of the demo, information about how and where to play a demo of the game before it comes out, early predictions about whether Nintendo's iPhone-first approach is helping or hurting its chances of success and a list of Android games to play while you wait.