8 of the biggest Broadway shows playing in 2017 that look too good to miss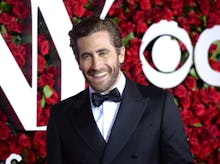 If your New Year's resolutions involve bringing more culture into your life — or if you haven't bought a special someone a holiday gift yet — then a pair of theater tickets are just the thing. Yes, Hamilton is still sold out for months into the future, but it's far from the only show on Broadway. The spring season includes everything from revivals of hit shows from the 1990s and exciting new productions with some Hollywood stars returning to their theater roots. 
Sunset Boulevard 
Glenn Close returns to the role of silent-film star Norma Desmond in Andrew Lloyd Webber's musical adaptation of the 1950 film that chronicles the fateful encounter between Desmond and a young man who stumbles into her life. Close won the Tony Award for her performance as the woman who declares, "I am big. It's the pictures that got small!" Previews begin Feb. 2, and it opens Feb. 9. 
Hello, Dolly! 
The revival of this classic musical stars Bette Midler as the ambitious matchmaker, alongside David Hyde Pierce as the man she wants to match with herself. Packed with lavish musical numbers and with a cast of Broadway veterans, this ticket is a hot get. Previews begin March 15, and it opens April 20. 
Sunday in the Park With George
Jake Gyllenhaal and Annaleigh Ashford will star in a revival of Stephen Sondheim's musical about Georges Seurat and his lover, Dot. Gyllenhaal, who made his Broadway debut in the 2015 play Constellations, earned raves for his singing in the concert productions of Sunday in the Park With George and Little Shop of Horrors. Previews begin Feb. 11, and it opens Feb. 23. 
Amélie
The 2001 romantic comedy has been made into a musical, and with Hamilton star Phillipa Soo playing the title role, it will be even more charming than it already was. Previews begin March 9, and it opens April 3. 
Charlie and the Chocolate Factory 
Roald Dahl's children's book comes to Broadway thanks to the songwriting team of Marc Shaiman and Scott Wittman, the team behind the plays Hairspray, Catch Me If You Can and some of the best tunes on Smash. Sweetening the news even more, bringing eccentric chocolate factory owner Willy Wonka to life is two-time Tony Award-winner Christian Borle. Previews begin March 28, and it opens April 23. 
The Present 
Cate Blanchett is making her Broadway debut, finally, in this updated version of the Chekov play Platonov. The play is about a group of friends gathering at a party, but when Blanchett is starring on Broadway, what more needs to be said? Previews begin Dec. 17, and it opens Jan. 8. 
Miss Saigon 
This adaptation of the opera Madama Butterfly is getting its first Broadway revival. Back in 1991, the musical made headlines for landing an actual helicopter onstage. Who knows what could happen with today's technology? Previews begin March 1, and it opens March 23. 
War Paint 
Starring Tony winners Patti LuPone and Christine Ebersole, this musical is about battling beauty titans Helena Rubinstein and Elizabeth Arden. With two Tony-winning leading ladies and only one stage, it's sure to be an entertaining evening. Previews begin March 7, and it opens April 6.