Aleppo Ceasefire: Evacuations delayed as rebels say regime forces launch new attack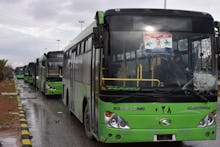 The ceasefire between Syrian rebels and President Bashar al-Assad's Russian-backed army, which was intended to allow civilians and rebels to leave eastern Aleppo unharmed, was broken early Wednesday, CNN reported.
The agreement, brokered by Turkey and Russia, had promised peaceful evacuation for rebels and civilians from towns under rebel control — an attempt to expedite a full government takeover of Aleppo. But buses sent into the city this morning to shuttle out rebels and civilians remained empty amid a new round of shellings.
A rebel spokesman based in Turkey told Reuters: "There is fierce bombardment by the regime forces on besieged Aleppo, using artillery, tanks and mortars." Reuters also reported, citing a pro-opposition TV station, that the evacuation could be delayed until Thursday.
Reports suggest that the ceasefire was breached by the Syrian troops, who have been accused of executing civilians in the streets as the battle for east Aleppo wages on. The buses left as soon as fighting resumed, leaving the remaining civilians and rebel fighters to fend for themselves. According to CNN, the UN has estimated that more than 50,000 civilians are still trapped inside the city.
Hadi Alabdallah, an independent Syrian journalist, tweeted early Wednesday morning that "intense pro-regime cluster and vacuum bomb air strikes on civilian homes" have begun following the end to the ceasefire in Aleppo. 
East Aleppo is a rebel stronghold: It's been under rebel control since fighting, shortly after the Syrian civil war began. To date, the war has displaced millions and killed nearly 500,000 people.
Russian President Vladimir Putin and President Tayyip Erdogan of Turkey are expected to discuss Aleppo later today, according to Reuters.
Dec. 14, 2015, 9:20 a.m.: This story has been updated.