UN nixes Wonder Woman campaign after petition cites her "impossible proportions"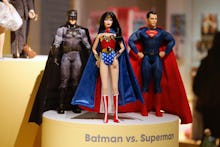 There's been a long, complicated debate about whether Wonder Woman, arguably the most recognizable female superhero, is a feminist icon or a "feminist failure" — an unattainable ideal for the everyday woman. 
The United Nations stepped right into the middle of the ongoing controversy when, in October, it named Wonder Woman its ambassador for women and girls as part of a larger campaign about "women and girls everywhere, who are wonder women in their own right, and the men and boys who support their struggle for gender equality."
However, the UN officially ended the campaign Tuesday after a petition calling Wonder Woman an inappropriate feminist role model garnered more than 44,000 signatures. 
"It is alarming that the United Nations would consider using a character with an overtly sexualized image at a time when the headline news in United States and the world is the objectification of women and girls," the petition reads.
Most people have always considered Wonder Woman to have a feminist edge, with Ms. Magazine featuring her on its cover in 1972 and declaring "Wonder Woman for President." For the feminist publication's 40th anniversary issue, Wonder Woman made another appearance on the cover, this time joining protesters to fight the "war on women."
Mary Sue, an online feminist outlet, applauded the balance between the character's femininity and masculinity as being key to Wonder Woman's representation of gender equality. Still, in the same article, a 1943 quote from Wonder Woman creator William Moulton Marston emphasized the superhero's complicated origins:
Not even girls want to be girls so long as our feminine archetype lacks force, strength and power. Not wanting to be girls, they don't want to be tender, submissive, peace-loving as good women are. Women's strong qualities have become despised because of their weakness. The obvious remedy is to create a feminine character with all the strength of Superman plus the allure of a good and beautiful woman.
It's this last part — the focus on Wonder Women's "allure" and beauty — to which UN petitioners seem averse.
Despite the creators' intentions to create a feminist icon, the petition said the "character's current iteration" features a "large-breasted white woman of impossible proportions, scantily clad in a shimmery, thigh-baring body suit with an American flag motif and knee-high boots."
In an interview with the New York Times, UN spokesperson Jeffrey Brez denied the Wonder Woman campaign ended due to controversy, mentioning that honorary ambassadors are typically only temporary. He did, however, allude to the petition.
"Some people voiced a concern that they didn't feel it was appropriate for a fictional character to be representing women and girls," Brez said Tuesday.
Wonder Woman will just have to settle for being warrior princess of the Amazonian people.