Apple AirPods finally hit the Apple Store: Reviews, price and everything you need to know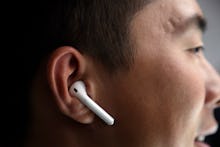 After months of anticipation and delays, the Apple AirPods have arrived — sort of. 
Apple's wireless Bluetooth earbuds officially went on sale Tuesday for $159, but they won't be shipping for another four weeks, according to the Apple Store's website. Those speedy enough to have purchased AirPods within the first hour of their posting will receive them by Christmas. Everyone else will have to wait until at least the end of December. 
Consumer demand is high for Apple's wireless audio technology. The AirPods are driven by Apple's W1 chip, which contains accelerometers that detect when users are speaking or listening in order to automatically pause sound or filter out external noise.
The AirPods also come equipped with Siri, allowing you to place phone calls, change songs or pull up map directions without touching your iPhone.
AirPods maintain a five-hour battery life and come packaged with a charging case that extends power up to 24 hours of use. With the case, the AirPods require only 15 minutes of charging to deliver an additional three hours of battery. The earbuds also sync with up-to-date iPhones, iPads and Mac devices. 
Reviews of the AirPods are mixed so far. Mashable calls them "excellent earphones," citing high comfort and sound quality. Engadget is on the fence, recognizing the device's potential but not yet willing to call them a "must-buy." Wired, on the other hand, is not a fan at all, calling them "U-G-L-Y" and deeming the sound quality mediocre. 
Regardless of what you think, the AirPods are here to stay. Wireless technology is the future of audio, whether we're ready for it or not.