Here's all the Marvel movies and TV shows coming in 2017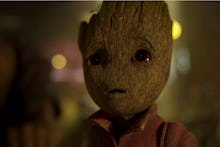 If there's any concerns among Star Wars fans that the franchise could dilute itself by continuously producing movies once a year, ultimately dipping in quality, let's take a look at another Disney cash cow: Marvel. 
While its films, in particular, have been criticized for being formulaic, it's a formula that clearly works on a critical and financial level more often than not. Marvel's TV series shouldn't be ignored, either. Netflix has thrown in three dark, gritty dramas in Daredevil, Jessica Jones and Luke Cage to the foray, with more to come in the near future (the only question is: How many superheroes does New York realistically need?). 
For Marvel fans, 2017 is poised to be another big year, featuring highly anticipated sequels and a necessary Spider-Man reboot. Below, you can check out all seven Marvel movies and TV series coming in 2017 (we're only including new shows on this list). 
Legion (Feb. 8) 
Legion has an ambitious conceit, far from the formulaic criticisms of the franchise's films. Helmed by FX's Fargo showrunner Noah Hawley, the new FX series follows Legion, aka David Haller, the powerful mutant son of Charles Xavier. Haller's diagnosed with schizophrenia, which intertwine with his mutant powers in what could be the trippiest series this side of Mr. Robot. 
The very early reviews for Legion — as in, people seeing the first half hour of the pilot at New York Comic-Con — are promising. Vox's Alex Abad-Santos posited that Legion could be the best superhero show on television. 
"Watching Legion never feels stable, and with such a damaged protagonist, why should it?" Abad-Santos writes. "That's the beautiful point Hawley is ultimately trying to make: This show, like its source comics, is as much about the mystery of what's real versus imagined as it is about experiencing the uncertainty of it all." 
Logan (March 3):
Hoping the break the curse of unimpressive Wolverine spinoffs (though The Wolverine was at least watchable), Logan is the most ambitious attempt from 20th Century Fox to date. It's going be rated-R, for starters, the first trailer for the film makes it feel like a Western that just happens to include a mutant. We dig it. 
Iron Fist (March 17): 
The Iron Fist show is not without controversy. The comic book version of the titular character is white, despite him being a martial arts master. As a result, fans were hoping Marvel would right a previous wrong and cast an Asian-American actor. Instead, it's Game of Thrones alum Finn Jones as Danny Rand.  
Will that hurt the show come March? 
The Defenders (TBD) 
The release date hasn't been set, but The Defenders will come to Netflix after Iron Fist (they kind of need to introduce him first!). Netflix has been mostly mum about their version of The Avengers; there still isn't any footage available. In fact, there's only one line of dialogue tied to the series, coming from Daredevil's former mentor, Stick. 
"You think the four of you can save New York?" Stick says in a voiceover during the show's San Diego Comic-Con teaser. "You can't even save yourselves."
Keep an eye out for more Defenders news, but expect it to arrive post-Iron Fist. 
Guardians of the Galaxy Vol. 2 (May 5): 
Marvel's Guardians of the Galaxy is loaded with nostalgic '80s music and intergalactic, self-deprecating humor and all signs point to the sequel following suit after a couple of trailers were dropped. 
The big difference? Groot is now Baby Groot (somehow, still voiced by Vin Diesel). So he's even cuter than he was before; albeit, tempted to wipe out his team by pushing a deadly button. That's a bit less cute. 
Spider-Man: Homecoming (July 7): 
Sony shit the bed with its Spider-Man remake — sorry, Andrew Garfield — and Marvel finally gets to take the reins on one of its most well-known superheroes. We got a glimpse of Tom Holland's Spider-Man in Captain America: Civil War, his iteration of Peter Parker looks like it will play into the character's light-hearted disposition. He's a high school kid, after all. 
The first trailer for Spider-Man: Homecoming looks promising (Mic's Alex Rabinowitz broke down the biggest reveals from the trailer, which you can check out here), with our first glimpse of Michael Keaton as Vulture. Not to state the obvious, but it's a fitting follow up for the actor following Birdman. 
Inhumans (IMAX theaters Sept. 1, fall date TBD): 
The drama behind producing an on-screen adaptation of Marvel's The Inhumans is its own story entirely, but the superhero group will no longer be featured in a movie. It's going to be a TV series on ABC, though the first two episodes of the show will also be coming to IMAX theaters in September (sure?). 
The group is an X-Men-like collective of characters with superpowers which came about when an alien race, the Kree, began experimenting on early, primitive humans. While it's unclear just who among the Inhumans will be featured, aside from the group's leader, Black Bolt, we do hope ABC considers a spot for Lockjaw. He's a teleporting alien dog, and he's really cute. 
Thor: Ragnarok (Nov. 3): 
Want to know what Thor and the Hulk were up to during Civil War? Best watch Thor: Ragnarok next November and find out. 
But really, you should: Marvel has been mum on the plot — IMDb will tell you that the current plot is unknown — and hasn't released any trailers, but it's more likely than not Ragnarok will help tie in the Marvel Cinematic Universe to its ultimate end game: A showdown with Thanos in Infinity War. 
In the meantime, you can find out what Thor's been up to vacationing in Australia. 
Update, Dec. 14, 2:26 p.m.: This article has been updated to reflect the inclusion of Logan, which the author is eternally embarrassed for omitting.