NYPD reportedly has a three strikes policy for arresting gropers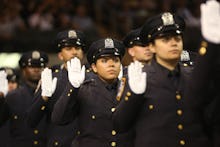 A new report from DNAinfo reveals the New York City Police Department has a dubious policy when it comes to gropers. 
According to the website, the NYPD's policy is, effectively, to only arrest gropers on their third offense. 
"I was told by the [assistant district attorney] in the past, you have to observe it three times," officer Joseph Pecora told the outlet. "We work in plainclothes. We didn't want to give away our identity before hitting that three mark."
When DNAinfo confronted the district attorney's office about the issue, a spokesperson denied its existence. The NYPD also declined to confirm, but said that its officers arrest gropers in a "timely manner," taking into account "the totality of the circumstances such as the safety of the victim, public and officer," before they do anything. Pecora said prosecutors have told them they often needed more than one example of groping in order to successfully make their cases in court. 
Whether or not the three grope minimum is official NYPD policy, it seemed to hold up across court documents DNAinfo obtained for five separate cases. In all of them, officers reported watching the suspects touch multiple people before taking action. 
According to a former detective with the NYPD's Special Victims Unit, part of the problem is that it can be hard to prove whether a grope was really a grope or a random, inadvertent brush on a crowded train, for example. Without repeated incidents, intent is reportedly hard for prosecutors to prove.
That's where bystander intervention might be helpful. In June, the Associated Press reported on the apparent efficacy of the Metropolitan Transit Authority's campaign urging subway riders to say something about the sexual harassment they might see on public transit. 
As a result, reports of subway sex crimes were up 57% — not because "groping, grinding and lewd acts," in the AP's words, were more frequent, but because the MTA and the NYPD were making it easier to tell officers about inappropriate transit behavior. 
And, in these our modern times, it's also easier than ever to publicly shame pervs, thanks to social media. So if you see something, say something — or better yet, do something. Because there's a chance the cops won't.