Horror Movies 2017: Watch trailers for 10 new scary movies releases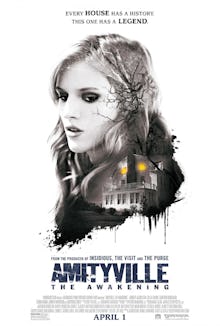 With everything from the latest installments in famous franchises to new and original stories hitting the big screen, 2017 is shaping up to be a scary year. Haunted houses, supernatural spirits and murderous mothers are all coming soon to a theater near you. 
Amityville: The Awakening, Jan. 6, 2017 
The latest residents of the Amityville house — Belle, Juliet and their mother — have moved in to help save money for the expensive healthcare of her younger brother. Strange occurrences, and a miraculous recovery, soon show Belle that all is not as it seems. 
The Bye Bye Man, Jan. 13, 2017 
After moving into an old house off-campus, three college students begin to experience unexplainable, possibly supernatural scares. They realize they're the latest target of The Bye Bye Man, a force that can possess people and force them to commit murder. 
Resident Evil: The Final Chapter, Jan. 27, 2017
The sixth and final installment in this post-apocalyptic horror movie franchise follows Alice as she and her friends return to Raccoon City to work with Umbrella in a final attempt to save the human race from oblivion.
Get Out, Feb. 24, 2017 
When a young black man visits his white girlfriend's family, he notices some unsettling things taking place, including another black man telling him to "get out." After learning that many black residents have gone missing, he realizes escaping may be easier said than done. 
Annabelle 2, Aug. 11, 2017
The doll is back, and she's up to no good. Don't schedule a shopping trip to the toy store on the same day as seeing this film. 
The Dark Tower, July 28, 2017  
Stephen King's apocalyptic story, which stars Idris Elba and Matthew McConaughey, has encompassed eight books as well as short stories and comic books. King began writing the story of the gunslinger and the man in black, when he was in college. 
It, Sept. 8, 2017 
Another Stephen King book set for the big screen is It, a 1986 novel about a group of children in Derry, Maine, who band together to fight a shape-shifting evil force. The sprawling novel was made into a TV movie that starred Tim Curry as the demonic clown Pennywise and the source of countless childhood nightmares. Bill Skarsgård will take on the role for the cinema. 
Insidious: Chapter 4, Oct. 20, 2017 
"I'm not sure if you're ready to hear this yet" is never a good thing for a character in a horror movie to hear. Even more creepy is the old-fashioned music playing in the trailer. 
Saw Legacy, Oct. 27, 2017 
Jigsaw is back in the eighth installment of this horror franchise. Not recommended for the faint of heart. 
Death House, TBD 
A secret prison called Death House experiences a power breakdown which sets the dangerous inmates free — and in pursuit of two agents being given a tour. A supernatural group of evil beings are involved — and they may be their only chance to survive.