11 positive moments in entertainment that remind us that 2016 wasn't all bad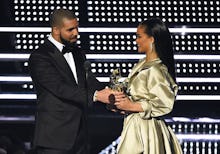 2016 certainly was a year to remember. We lost countless icons like David Bowie, Prince and Leonard Cohen, and we are still processing the 2016 presidential election and Donald Trump's victory. However, there were a few bright spots this year. 
Beyoncé stopped the world once again with another surprise album, Deadpool breathed life back into the superhero genre and Kate McKinnon was the year's breakout star. Check out the best moments in entertainment this year that didn't make us cringe.
Leonardo DiCaprio finally won an Oscar
After years and years of trying, Leonardo DiCaprio finally obtained his long-sought-after Oscar for his performance in The Revenant. It was a moment the internet had been awaiting for years — and DiCaprio, too. 
RuPaul's Drag Race All Stars
RuPaul's Drag Race is a bright spot in any year, but RuPaul's Drag Race All Stars was a standout season for fans. It gave us one of the year's best episodes of television with "Revenge of the Queens" and crowned Alaska Thunderfuck 5000 as one of the show's most deserving winners. 
Beyoncé's Lemonade
Just when we thought it was safe, Beyoncé went and dropped another surprise visual album on us this year. Lemonade, released in April, made the world stop once again. Beyoncé poured her heart out to her fans and started a movement.
Thank you, Netflix: Stranger Things, Gilmore Girls: A Year in the Life and Black Mirror
Thanks to Netflix, it was the year of the binge watch more than ever before. Original shows like Stranger Things, Black Mirror and Gilmore Girls: A Year in the Life captured audiences and had all of us pressing "next episode" 
Hiddleswift
Leave it to Taylor Swift to provide the world with a much-needed distraction. After breaking up with Calvin Harris in May, Swift quickly moved on to Tom Hiddleston and the two had a summer love affair that ended almost as quickly as it started. We are never, ever going to forget this couple. 
Britney's back. Again. 
The undisputed princess of pop, Britney Spears, returned this year with  Glory, her ninth studio album. While the album came and went, and singles like "Make Me" and "Slumber Party" failed to chart high, Spears was seemingly everywhere this year. Her medley of hits at the 2016 Billboard Music Awards was everything we'd been missing from the pop star, and her body surfing segment with Natalie Morales on Today was maybe the greatest moment of the year. 
Set pictures from Ocean's Eight
The all-female Ocean's Eleven reboot, Ocean's Eight, is currently filming — and, based on the photos from the set that have flooded Twitter for the past few weeks now, it is already the best movie of 2018. Starring Rihanna, Cate Blanchett, Sandra Bullock, Mindy Kaling, Anne Hathaway, Helena Bonham Carter, Sarah Paulson and Awkwafina, we need this movie now more than ever. 
Deadpool reinvented the superhero
The superhero genre had become a little stale, so Ryan Reynolds decided to shake things up with Deadpool. The witty, sarcastic, unpleasant but hilarious superhero was a much-needed breath of fresh air for the genre. Not only did the film earn rave reviews — and a few Golden Globe nominations — it broke box office records, too. 
Rihanna & Drake 
Rihanna and Drake professed their love for each other in 2016, making all of us swoon. After years of speculation that they were dating, the couple finally went public at the 2016 MTV VMAs, when Drake presented Rihanna with her Video Vanguard award and gave an unforgettable speech about the love of his life. 
The rise of Kate McKinnon
It was Kate McKinnon's year, and we were all along for the ride. Not only did McKinnon steal Paul Feig's Ghostbusters reboot with her fan-favorite character, Jillian Holtzmann, but she became the breakout star of Saturday Night Live. In addition to playing countless characters on SNL, McKinnon has wonderfully portrayed Hillary Clinton for a few years. In the episode following Donald Trump's win, McKinnon portrayed a somber Clinton at a piano and sang Leonard Cohen's "Hallelujah," causing the world to weep. 
Bethenny vs. LuAnn on The Real Housewives of New York City 
It was a great year for television, and an even better year to be a fan of The Real Housewives of New York City. The eighth season of the reality series was better than ever and gave us the season-long war of LuAnn vs. Bethenny, which resulted in endless GIFs that became all too relatable for how we felt this year.