2016 proved to be a standout year for horror films with female leads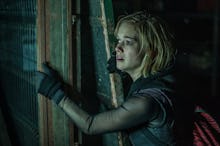 In a year with typical male-fronted tent poles that floundered, the horror genre was a bright spot at the box office and for actresses.
The final girl had a rebirth in 2016 with remarkable female leads that reinvented the scream queen. Actresses have always thrived in the horror genre, of course – Jamie Lee Curtis, Neve Campbell and Jane Levy all broke out thanks to their lead roles in movies like Halloween, Scream and Evil Dead – but this year proved that the final girl succeeded while the male action hero struggled.
Male-led blockbusters like Independence Day: Resurgence and Jack Reacher: Never Go Back failed to capture audiences and critic accolades alike, earning less than their predecessors at the U.S. box-office and continuing the trend of unnecessary sequels. The horror genre had its own misfires this year, but the stakes are lower thanks to the genre's notorious tiny budgets. Failures like Blair Witch and Ouija: Origin of Evil were less costly. 
This year, instead of screaming, the scream queen fought back and hard. Horror icons like Sidney Prescott and Laurie Strode did too, of course, but this year, their obstacles were even greater than just deranged serial killers. Threats like blind psychopaths, unkillable sharks and aliens hunted horror actresses this year. 
Don't Breathe was praised for being one of the most inventive and refreshing horror films of the last few years, and one that was genuinely thrilling. It put a spin on the home invasion thriller, put it's female lead at the front and center and earned over $150 million worldwide. 
One of the biggest surprises of the year was The Shallows. It revived the dormant shark thriller, had fun with genre convention and gave us a stellar performance from Blake Lively. 10 Cloverfield Lane earned unanimous praise from critics, had a healthy box-office return and gave us a kick-ass heroine in Michelle (and a fantastic performance by Mary Elizabeth Winstead).
The Conjuring 2 earned over $320 million worldwide on a budget of just $40 million. But The Conjuring 2's greatest feat is that the co-lead of this new franchise, Vera Farmiga, is an actress over 40. Moreover, her character, real-life paranormal investigator Lorraine Warren is the hero of both films in the franchise. 
This year, the final girl fought more dangerous threats than ever before and audiences were introduced to new scream queens worthy of standing alongside legendary ones. While male dominated sequels struggled at an ever changing box-office, the horror genre proved once again to be one of the last sure bets for studios.