Bruno Mars' Carpool Karaoke with James Corden is as perfect and precious as he is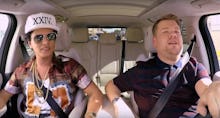 Following Madonna and Lady Gaga's rides, Bruno Mars is James Corden's latest passenger and their episode of "Carpool Karaoke" is just as infectious as a Mars' smash hit. 
On Tuesday's edition, the "24k Magic" singer got in the car with the Late Late Show host and the two went through the singer's endless list of hits, from "Locked Out Of Heaven" to "Grenade."
Mars said he knew that at just 4 years old he wanted to perform. "I was impersonating Elvis Presley at my dad's rock and roll 1950s review ..." and then broke into an impromptu rendition of "Jailhouse Rock" that is just too good. 
"All that song teaches me is that you and I are very different in the bedroom," Corden admitted after the pair sang his song "Versace On The Floor." "If I start bringing out those sort of shoulder moves, I'd be living on my own, with a roommate, over a gas station." 
"I've never felt more alive," Corden revealed to his guest at the end. "I told you," Mars agreed. And so do we.