Know a light sleeper? These snooze-worthy gifts will make their dreams come true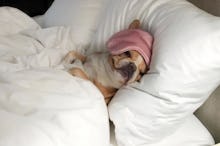 It might not be the sexiest present to gift someone, but chances are good that your loved ones will definitely appreciate the gift of sleep. According to a Centers for Disease Control and Prevention study released in February, 1 in 3 U.S. adults don't get enough sleep (lacking in sleep can contribute to developing chronic conditions such as obesity, diabetes, heart disease or stroke.
Unfortunately, whether by intention or accident, sleep seems to be in high demand. Which means products that make it easier for people to get a full night's rest (at least seven hours, as recommended by the CDC) are the perfect thing to gift this year.
Super relaxing playlist: $0
The first thing you should do is make a relaxing playlist that someone can play as they get ready for bed, or even while they're sleeping. A U.K. study found that listening to relaxing music (specifically, a song called "Weightless") resulted in reducing study participants' overall anxiety by 65%. Check out this Spotify playlist featuring that song and nine of the other most relaxing songs according to that study.
The Bedphones are pretty much what you think they are: headphones to wear to bed. Built to be as thin as possible, the headphones claim to be so comfortable you forget you're wearing them. 
It's idea for anyone who lives near a train stop or construction site: Play the above super relaxing playlist and we bet you'll have a hard time staying awake.
White noise machine: $49.95
Home product review site the Sweethome considers the LectroFan, with 20 sound options, as the best white noise machine. With over 20 hours of testing and interviews with a sleep researcher, two audiologists, and a sound engineer, we trust their findings. Here's what they said:
Thanks to its electronically generated, nonrepeating white noise options — which sound a bit like soft static — it worked as well as or better than the five other tested machines at masking squalling cats, barking dogs, and snoring roommates. Its simple controls are easy to use (even in the dark), its range of volume is wider than that of other devices we tested, and its small size is convenient for travel and won't dominate your nightstand.
Personal zone creator: $249
A different way cut out the noise is the the Muzo Personal Zone Creator will be the gift to promise.
By applying "anti-vibration technology" to a smooth surface, its makers claim the device can mask out sounds by its own vibrations. The seemingly straight-from-the-future device isn't available yet (it was recently extremely funded on Kickstarter) and will begin shipping in February. 
Comfy PJs: $98
Comfy pima cotton pajamas are the best thing to sleep in. The sets from Lake Pajamas are as trendy as they are comfortable. The Short Long Set, pictured above, comes in a variety of prints and colors.
A good quality pillow: Prices vary
There is no one pillow for everybody. Pillows vary in weight, firmness and filling because everybody sleeps in their own way. Consumer Reports thoroughly explains which pillows are best for different sleeping positions (side sleepers, back sleepers, etc.).
A sound pillow investment will go a long way to improving sleep, so why not give someone a super good quality pillow? Just be sure to get the right pillow for their sleeping habits.
Casper, a mattress brand that recently launched its first pillow collection, offers a 100-night trial period on pillows, which is a great way to try one out.
Aromatherapy: $60
Proponents of aromatherapy claim it's a helpful, non-prescription method of winding down, and Tata Harper's line of stress-reducing aromatherapy blends, specifically the aromatic bedtime treatment, have earned a devout following.
A Bluetooth-enabled alarm clock: $40
Despite science saying how our devices (mainly our smartphones) prohibit us from sleeping better, we keep bringing them to bed with us. Maybe it's because we depend so much on the alarm clock setting to wake us up in the morning. A Bluetooth-enabled alarm clock, such as this one from Apie, is a way to keep your phone out of the bedroom while still staying (somewhat) connected to it.