Will Mary-Kate and Ashley Olsen appear in 'Fuller House' season 3?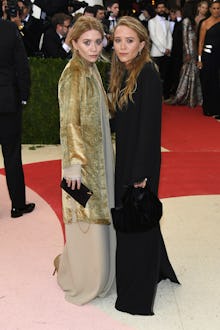 Since Netflix announced its Full House reboot, Fuller House, Mary-Kate and Ashley Olsen have expressed no interest in reprising their role as Michelle Tanner. 
When the reboot was announced in 2015 without the promise of a Michelle Tanner appearance, the storyline Netflix settled for was comparable to the Olsen twins' professional lives in the fashion industry. They simply wrote Michelle off as working the most grueling of fictional hours building her fashion empire.
For the last two seasons, the cast has playfully tormented the twins with some not so subtle digs. First, with a fourth wall shattering callout in Fuller House's season one premiere, followed by an especially desperate plea in season two from D.J. and Uncle Jesse.
 "We miss Michelle... We hope she'll be with us next year," D.J. says.
John Stamos' Uncle Jesse then looks directly into the camera and says, "Come, it'll be fun!"
The original '80s sitcom turned out to be the twins' big break, making their silence on the matter even more puzzling. During a recent interview with TV Line, the series creator, Jeff Franklin said that his primary outlet for communicating with the twins is through the show:
We just talk to them through the show. What [Jesse] said is how we all feel. We'd still love to see them come back. Who knows if that'll ever happen, but we're all still hopeful.
Indie Wire reported that Fuller House is among "the most watched television shows of the year." With both fans, creators and cast members continuing to hold out hope for a Michelle Tanner cameo, rumors have circulated that Mary-Kate and Ashley's sister, Elizabeth Olsen is being considered by producers to play the part. 
At the March 2016 premiere of her film, I Saw The Light, E! questioned the younger Olsen sister about playing the part. However, Elizabeth Olsen denied any validity in the gossip.
 "I'm pretty sure no one on my team heard it," she said. "I don't know where that started." 
While it's still unclear whether or not Fuller House will be returning to Netflix for a third season, the show's creator, Jeff Franklin, recently bought the Tanner family home in San Francisco for $4 million dollars, it seems as though one of "the most-watched television shows of the year" is moving in a promising direction, with or without the Olsen sisters.
Mic has ongoing Fuller House coverage. Please follow our main Fuller House hub.