11 truly decadent green bean casserole recipes — because it's not Christmas without one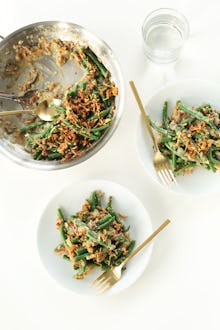 Don't leave the green bean casserole at the Thanksgiving table. The gooey, creamy healthy-ish (greens?) dish is a fantastic side during any winter holiday and pairs with pretty much any protein you're serving at your holiday meal. 
Ready to switch up your recipe? These green bean casseroles are just ripe for Christmas. And New Years. And beyond. Go!
Almost homemade green bean casserole
Crushed potato chips and cremini mushrooms add another level of savory flavor to this festive casserole. Get the recipe here.
Vegan green bean casserole 
This green bean dish is so creamy, crunchy and fresh, you won't even miss the dairy! Get the recipe here.
Green bean "casserole"
This gourmet "casserole" recipe takes the traditional dish up a level with haricots verts, crème fraîche and hazelnuts. Get the recipe here.
Creamy green bean casserole from scratch
This green bean casserole is the real deal, right down to the crispy onions you're making completely from scratch. Impressive! Get the recipe here.
Cheesy green bean casserole with bacon
Cheese and bacon in one dish that technically counts as a vegetable side? Your Christmas just got so much better. Get the recipe here.
Healthier green bean casserole
Panko bread crumbs on top of this healthified casserole add the beloved crunch. Get the recipe here.
Lightened up green bean casserole with shallot crumb topping
No one will judge you for eating all the crisp parmesan-shallot topping off of the green beans first. Make extra topping. Get the recipe here.
Classic green bean casserole
White bread and canned fried onions give this homemade casserole a retro vibe. Get the recipe here.
Green bean casserole with onion rings
If you were looking for a way to fit onion rings into Christmas dinner, this casserole recipe is it! Get the recipe here.
Green bean casserole
Okay, so pretty much everyone has a go-to green bean casserole recipe. Make yours in a glass baking dish to show off all the hunger-inducing creaminess. Get the recipe here.
Slow cooker green bean casserole
If you need to save oven space, or just want to set and forget your casserole, go with this slow cooker version. Get the recipe here.