Kanye West reveals why he met with Donald Trump in reserved Twitter rant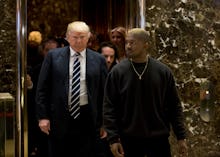 After Kanye West met with president elect Donald Trump on Tuesday, the star took to social media to explain why. 
The rapper, who has been silent on social media since October, faced criticism and commentary throughout the day. 
When asked what the two discussed during their 15-minute meeting, Trump said, "We've been friends for a long time. We discussed life." His answer was broadcast on CNN. 
The meeting has been speculated to be a distraction from other, more political, issues. 
West, who was recently hospitalized, had previously expressed his admiration for Trump's campaign during his Saint Pablo Tour. He said he himself did not vote, but he described the campaign as "absolutely genius."
West, whose marriage with Kim Kardashian is speculated to be on the rocks, stated on social media that he paid a visit to the president-elect to discuss "multicultural issues," listing education and violence, as well as bullying as some of the subjects. 
"I feel it is important to have a direct line of communication with our future president if we truly want change," he wrote. 
West, who has discussed running for president in 2020, ended his series of tweets with "#2024."