Ohio Gov. John Kasich signs 20-week abortion ban into law; vetoes "heartbeat bill"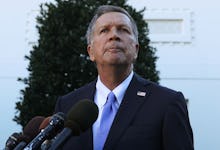 Last week, two separate abortion restrictions cleared the Ohio legislature and moved toward Gov. John Kasich's desk. The one that dominated headlines was the "heartbeat bill," which would have made it illegal for Ohio women to terminate a pregnancy after just six weeks.
On Tuesday, Kasich signed the 20-week abortion ban, according to the Associated Press. 
The new legislation, Senate Bill 127, had the support of Ohio Right to Life, which determined that the ban, despite its being unconstitutional under 1973's Roe v. Wade, was more likely to hold up in court than the heartbeat bill. Laws similar to the heartbeat bill have been struck down in North Dakota and Arkansas, which is why Kasich ultimately decided against it. Anti-abortion senators had tacked the bill's language onto child abuse legislation before passing it; on Tuesday, Kasich opted for a line item veto.
"The State of Ohio will be the losing party in that lawsuit and, as the losing party, the State of Ohio will be forced to pay hundreds of thousands of taxpayer dollars to cover the legal fees for the pro-choice activists' lawyers," he said, according to the AP.
"Therefore, this veto is in the public interest," he added. The ACLU of Ohio had promised a lawsuit if Kasich signed the heartbeat bill.
Abortion restrictions like those put forth in Ohio's 20-week ban stand in a number of states. They hinge on the argument that a fetus is "pain-capable" at 20 weeks, but most medical professionals agree that a fetus cannot feel pain until the third trimester, around 27 weeks. 
Under Roe, abortion is illegal after viability (roughly 24 weeks), except in cases of rape, incest or threat to the mother's life. The bill Kasich signed Tuesday would not make such exceptions, the AP reported. 
"I appreciate the support of Ohio Right to Life," Kasich tweeted alongside a statement from the anti-abortion lobbyist group praising the governor's decision "to finally engage a winnable battle with the federal judiciary while saving countless babies at the same time."
Shortly after the news broke, Dawn Laguens, executive vice president of Planned Parenthood Action Fund, issued an impassioned denouncement: 
Don't let John Kasich fool you. He is one of the most extreme anti-abortion governors in this country. Kasich is on a mission to make abortion illegal in Ohio, and he's intent on using smoke and mirrors and backdoor politics to do it. He may hope that by vetoing a six-week ban — which would have virtually banned abortion with almost no exceptions — he comes off as moderate. But Ohio women see right through this and reject this extreme agenda. The 20-week ban will force women to travel long distances and cross state lines in order to access safe, legal abortion — a barrier that many women simply cannot afford. This is just another shameful attempt by John Kasich to make abortion illegal. And Ohioans aren't going to stand for it.
Ohioans have been protesting both bills, demonstrating outside the statehouse in Columbus, outside the Governor's Mansion and in other cities within the state. People have taken to decorating the statehouse fence with metal coat hangers, a reminder of the options women are left with when abortion becomes illegal. Some have even gone so far so to mail Kasich hangers directly. 
Yet the bill passed Tuesday in the Buckeye State is part of a larger war being waged on reproductive rights, one that will escalate after President-elect Donald Trump takes office in January, the AP reported. Congress has the option to enact a 20-week bill nationwide, which Planned Parenthood has classified as one step in a larger plan to ban abortion altogether.
Abortion rights advocates, however, are pushing back, Planned Parenthood, the ACLU and the Center for Reproductive Rights having recently brought lawsuits against three states — Missouri, Alaska and North Carolina — with arbitrary but popular abortion restrictions. The organizations intimated that these would be the first in a series of such suits. 
The ACLU of Ohio is already tweeting its discontent with Kasich's signature of the 20-week ban, and Iris E. Harvey, president and CEO of Planned Parenthood Advocates of Ohio, promised Ohioans would keep up their protests.
"Every woman has the right to make her own personal health care decisions," she said in a statement. "After the passage of the 6-week and 20-week abortion bans, dozens of activists took to the streets — showing up at John Kasich's house, his office and all over the statehouse. Thousands more made phone calls, sent letters and refused to be silent. That won't stop. Women are tired of politicians telling us what to do with our bodies." 
Dec. 13, 2016, 5:20 p.m.: This story has been updated.