Ryan Zinke is Donald Trump's pick for Interior secretary, per report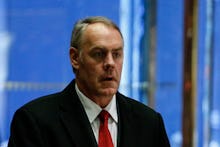 President-elect Donald Trump is set to nominate Rep. Ryan Zinke, a Montana Republican, as Interior secretary, Politico reported Tuesday.
Zinke's nomination appears to be a change of course for Trump, who just four days ago was reportedly leaning toward Rep. Cathy McMorris Rodgers, a top House Republican, for the role. 
A retired Navy SEAL, Zinke was first elected to Congress in 2014. He was also an early Trump supporter, endorsing Trump in May. It's still unclear whether Zinke has accepted the offer, Politico reported.
Zinke was reportedly mulling a bid for Senate in Montana in 2018 against incumbent Democratic Sen. Jon Tester.