10 Kardashian-approved holiday gifts beyond Kimoji game credits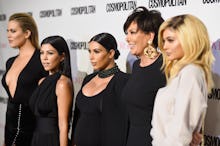 The Kardashian women are protective of their brand for good reason. They can sell just about anything. Scratch that — they can sell anything under the sun. And the holidays are a clutch time to get Kardashian-approved gifts for family and friends who relish in Keeping Up With the Kardashians marathons with you.
Kim, Khloe and Kourtney — plus Kylie and Kendall by default — have a distinct look. While each of the five sisters has their own taste, facilitated by a dedicated glam squad, in general, their style tends to be heavily trend-focused. They love a fitted distressed jean, but they'll add a little drama by pairing it with super high heels. And their basic makeup look is always composed of a strong eyebrow, extended lashes and a juicy lip. 
If you enjoyed our high-tech beauty tools list, you're going to love what we've gathered here.
Editor's note: Prices and product availability are subject to change throughout the holidays.
Every so often (between the high heels, bodycon dresses and full face of makeup), a Kardashian is spotted in a lazy day look. This look is usually composed of a black sweater and ripped jeans. And while this one is on the pricey side, we think its adjustable hood captures the urban cool of Kylie.
It Cosmetics went all out for this makeup palette, which was developed by plastic surgeons. Containing a bronzer, luminizer, blush and finishing powder, its job is to create a natural-looking contour.
Sexy chokers are very much a Kardashian staple that's here to stay. Something about the '90s nostalgia of wearing one appeals to the ladies, with Kim having a special connection to the one she wears. Made in their hometown of Los Angeles, this Cult Gaia choker is a great jewelry option.
Shade the haters with this Calabasas-designed hat from the ever-popular Kylie Shop. Embroidered in front is the Kylie Cosmetics logo with dripping wet lips.
In order to truly capture the essence of a Kardashian, one must shape their eyebrows for the gawds. This pencil and brush duo with glide-on precision will make eyebrow definition all the easier.
Kim Kardashian West has never been coy about her love of Saint Laurent shades. Take a literal cue from the queen bee of the family by getting these acetate sunglasses made in Italy.
As a cute stocking stuffer, this $30 gift comes with matte lipstick and pencil lip liner. This particularly shade is a "blackened vampy plum" that we've seen Kylie rock on more than one occasion.
For the foodie who's Kardashian-obsessed, this is a great gift. Mastro's is a celebrity haven known for its impeccable service, hearty steaks and delicious desserts. They have locations in five different states and Washington, D.C.
Khloe co-founded this denim brand that markets itself toward women with curves. In addition to showing off how they look on her on Instagram page, she's also recruited fashion influencers like Nadia Aboulhosn and Gabi Gregg to promote the brand.
Beyond just buying Kimoji app credits, shop Kim's online store with fun merchandise like this phone case. We love its simple "Savage" message on a case compatible with Apple iPhone 6+/6s+.
This month, Mic Essentials brings you handpicked deals, reviews, recommendations and gift ideas. For more ideas, see our lists for High-Tech Beauty, Watches, and Makeup Kits. If you buy something through a link on this page, Mic may earn a small commission.