'Super Mario Run' Apple TV Release Date: How to play on your TV and computer right now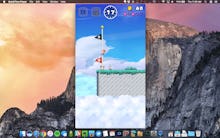 Super Mario Run's release date of Dec. 15 is here! You can finally download the Nintendo game on your iPhone or iPad device (sorry Android). But even though Super Mario Run is an iOS exclusive at launch, it's possible to play the game on other Apple platforms. 
While playing directly on your phone or tablet will offer the optimal Super Mario Run experience, those wanting to play on the largest screen in their house or right on their laptop can certainly do so. The only catch: That television will require a connected Apple TV and your personal computer better be Apple-branded too.
Super Mario Run Apple TV release date: It could happen
In an interview with CNET, Nintendo of America president Reggie Fils-Aime wouldn't confirm plans for an Apple TV version of Super Mario Run, but here didn't rule it out either.
"You know ... we haven't even launched Super Mario Run yet, so we haven't even thought about those types of applications," he said, "but again, what I would say is, we developed this to live on these kinds of screens, and to be played in this type of experience, and we think that's what it's best for. Let's see what happens after the 15th of December"
Fils-Aime also ruled out the possibility of Super Mario Run for the upcoming Nintendo Switch. However, there is reason to believe pretty sure Nintendo is working on some sort of new Mario game to launch with the modular console in 2017. The company's already dropped a few hints, and Mic will keep you updated as this story as it develops.
Super Mario Run on Apple TV: How to play on your television
Those looking to cast their Super Mario Run game to their television through an Apple TV can do so using AirPlay. Here's how to get started.
After unlocking your iPhone or iPad, swipe up from the bottom to access the Control Center view. When the pane has appeared, hit the AirPlay button. A code will appear on your Apple TV for you to type into your iOS device (ensuring only you or approved devices can mirror their display on your television). Once you input the code shown on the television, your entire phone or tablet display will appear on your TV screen.
If this doesn't work, make sure you're iPhone or iPad and Apple TV are connected to the same Wi-Fi network.
From this point, you'll be able to tap Super Mario Run on your iPhone or iPad screen while your TV set displays whatever is on your mobile device. Unlike when you use AirPlay to cast a Youtube video or song, the whole screen will be mirrored, meaning notifications and alerts will appear on your television as well. 
Super Mario Run for PC: How to play on your Mac computer
Super Mario Run can be played on your computer as well, but only if you're cool with using your phone or tablet as the controller. 
Similar to the Apple TV, iPhone and iPad users are able to mirror their display right on their Mac computer. Using Apple's QuickTime app, iOS users can blow up their Super Mario Run play experience onto the big screen — whether that be a 5K iMac or just a 15-inch Macbook Pro. However, you may be waiting a while if you plan on playing Super Mario Run with the new Touch Bar.
To shoot your phone screen over to your computer, open up QuickTime from your Applications folder while your phone is plugged in over USB. Click File and then select New Movie Recording. Next to the red record button in the video screen, click the arrow pointing down. From here you can select your iPhone or iPad's name. This will display video of whatever is happening on your phone or tablet screen onto your computer.
From here, Super Mario players are able to even grab a recording of their gameplay within the QuickTime app. Just hit the record button to start saving highlights.
Super Mario Run release date: Android and Windows?
Nintendo's first mobile game will be an iOS exclusive for the time being. Meaning if you want to play Super Mario Run on Android or get the game on your PC, you'll have to wait for Apple's exclusivity window to conclude before playing the game on your non-iOS device.
More Super Mario Run news and updates
If you want to know more about Super Mario Run, walk calmly towards Mic's latest coverage, like our review of the demo, an explanation for why the game isn't free, early predictions about whether Nintendo's iPhone-first approach is helping or hurting its chances of success and a list of Android games to play while you wait.