The Energy Department is standing up to Trump's request for names of climate workers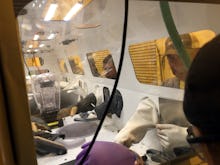 The U.S. Department of Energy is refusing to comply with a request from President-elect Donald Trump's transition team to identify employees involved in the implementation of President Barack Obama's climate agenda, Reuters reported on Tuesday.
A report earlier this month in Politico said Trump's transition team had submitted a 74-point questionnaire to the agency's leadership asking for the names of those employees; according to Reuters, the team also sought to identify the professional affiliations of all DOE lab workers. One employee told Politico the request was a "remarkably aggressive and antagonistic tone to take with an agency that you're about to try to manage."
On Tuesday, agency spokesman Eben Burnham-Snyder told Reuters staff were "unsettled" by the request and the agency will not be complying.
"We are going to respect the professional and scientific integrity and independence of our employees at our labs and across our department," Burnham-Snyder said. "We will be forthcoming with all publicly available information with the transition team. We will not be providing any individual names to the transition team."
Trump has named former Texas Gov. Rick Perry, a climate skeptic who infamously forgot the name of the department during a 2011 Republican presidential primary debate while saying he would eliminate its role entirely, as his future appointee for the cabinet-level secretary of energy position. Perry is just one of several potential Trump cabinet nominees seemingly opposed to the mission of the departments they are proposed to run; the president-elect's pick for the head of the Environmental Protection Agency, Oklahoma Attorney General Scott Pruitt, is actually suing the EPA over Obama's climate agenda.
The president-elect recently reiterated his opposition to the near-universal scientific consensus that industrial greenhouse gas emissions are responsible for increasing worldwide average temperatures and other climate phenomena. Sections of the DOE responsible for energy research that have worked on climate change could be slated for a total overhaul of their mission to support Trump's fossil-fuel friendly agenda, or eliminated outright by a future Secretary Rick Perry.
While Trump is not yet president, the DOE's move suggests internal government resistance could prove a potent barrier to the enactment of at least part of his agenda.
In November, the New Yorker's Evan Osnos detailed how then-California state controller John Chiang successfully opposed Gov. Arnold Scharwzenneger's plan to cut state employees' salaries 2008, winning in court against the former action star for violations of the Fair Labor Standards Act. However, as Osnos wrote, "The consequences of resistance can be dire. In 1981, nearly thirteen thousand air-traffic controllers challenged the new President, Ronald Reagan, by staging an illegal strike. Reagan fired them and broke their union."