2016 magazine covers were more diverse than ever, according to new report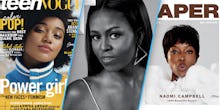 Although fashion runways are barely creeping toward a more diverse display of people, magazine covers really stepped up this year. 
According to a new report from the Fashion Spot, 2016 magazine covers were more racially diverse than ever before, with 29% of cover models being people of color. So, of the 679 magazine covers the site compiled and analyzed (which isn't actually all the magazines published this year), there were 197 covers with nonwhite people. 
Compare that to 2015's 22.8% and 2014's 17.4%.
With the last slew of fashion week runways in September casting only 25.4% nonwhite models, it's safe to say that the magazine world has finally caught on to the fashion industry's efforts to diversify the people whom they choose to celebrate, and then some. 
Among the most racially diverse publications are Vogue Taiwan, which had a nonwhite model on every cover this year and Vogue India, which had a majority of people of color. 
Then there was Paper magazine, which had half of its covers graced by a person of color — from Naomi Campbell to Teyana Taylor. And over at Teen Vogue, six of its cover stars were people of color, like Amandla Stenberg, Willow Smith and Zoë Kravitz. 
Among the least racially diverse publications were Love magazine, which cast no people of color for its covers and British Vogue, which only had one woman of color on a cover: Rihanna. 
And unfortunately, although racial diversity made leaps and bounds this year, size diversity really didn't fair that well. Of the 679 cover model appearances, there were only six appearances by plus-size women, like Ashley Graham on Cosmopolitan and Adele on Vogue. That's just 0.9%. 
As far as transgender appearances go, although the latest fashion week runways saw more transgender models than seasons previous, covers weren't so generous. This year, there were just five covers with a transgender person on them, and four out of those five total appearances belonged to Hari Nef, a model and actress who's appeared on Amazon's Transparent. The other cover star was Jazz Jennings, who appeared on Dazed. 
Although Andreja Pejic landed a cover of Marie Claire Spain and Laverne Cox landed her own cover of LADYGUNN, those particular magazine weren't included in the Fashion Spot's roundup. Still though, this is an improvement from last year. 
"In the years that we have been tracking the data, we have seen a continual rise in racial diversity — and there's no doubt that transgender women had their most visible year yet," Jennifer Davidson, the Fashion Spot's managing editor, said in an interview. "We can only expect (and hope) that we'll continue to see gains in 2017, and that these magazines will start appealing to all women on their covers." 
So, much like on the runways, people of color continue to make gains on magazine covers. Now if only we could say the same for women above a size 8, and transgender people as well. 
Dec. 14, 2016, 12:24 p.m. Eastern: This story has been updated.