Trevor Noah blasts Kanye West's meeting with Trump, along with its media coverage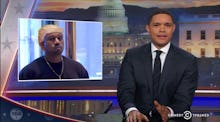 The impromptu meeting between President-elect Donald Trump and Kanye West was met with a lot of buzz on Twitter, coming off the heels of the artist's pro-Trump rant at one of his concerts prior to his hospitalization. But to get a broader idea of how a meaningless meeting took the world by storm, one has to look at the media coverage surrounding it. 
"The meeting must have gone well, because not long ago — and this is real — Kanye tweeted '#2024,'" The Daily Show's Trevor Noah says. "Meaning that now Kanye is not going to run against Trump in 2020, and that also means we may get to see Trump featured in the 'Bound III' music video. This is exciting!" 
"But you know what?" Noah continued. "For me, even better than those two meeting was the news coverage of it." 
As Noah explained, the Trump-West meeting immediately deflected media coverage on the likes of CNN and MSNBC from other issues — like the ongoing ceasefire and evacuations in effect at Aleppo and Exxon Mobil Corp. CEO Rex Tillerson's secretary of state nomination. With MSNBC, a broadcaster was literally interrupted mid-sentence so that the network could cut to West and Trump posing for photos in the lobby of Trump Tower.  
Noah couldn't help but laugh, but there was an undercurrent of — quite understandable — frustration. 
"Oh, man, the media is the best," he concluded, before imitating two broadcasters. "'The situation in the Middle East is looking increasingly dire' — 'I'm sorry, I'm happy you're talking about human tragedy and I'mma let you finish, but we have one of the best news stories of all time.' It really makes you wonder how America ended up selecting a celebrity president when the media is so focused on the issues." 
Watch Noah's segment on the Trump-West meeting here.