Google's Year in Search video is further confirmation that 2016 was bleak AF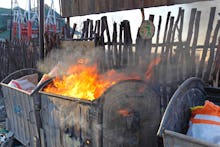 For those whose memories have, as a means of self-preservation, blocked out the bleaker points of 2016, Google is here to remind us that, oh yes, this year really was that bad — and also that it's okay, maybe even inevitable, to cry.
On Wednesday, Google released its Year in Search video. It is a montage of all the things we lost, plus some nice things that happened, probably so that we don't all go fling ourselves into the void after watching. 
In 2016, we lost hundreds of black lives at the hands of police. The European Union lost the United Kingdom to Brexit. Hillary Clinton lost an election to an unruly, some would (and did) say unhinged former reality television star. We lost David Bowie, Prince, Alan Rickman and Muhammad Ali. Hundreds of thousands died in the Syrian Civil war. Terrorist attacks — in Brussels, Istanbul and Orlando — shook the world. "Post-truth" and "xenophobia" were the two words selected by two dictionaries to best describe the year.
But as Google strives to remind us with its video, some good things happened in 2016. We watched Simone Biles defy science at the Olympics, remember that? And the Cubs finally won the World Series, making many grandparents extremely proud. Beyoncé gave us first "Formation" and then Lemonade, plus a lot of people finally made good on new album promises they failed to keep in 2015. A woman ran for president and won the popular vote. President Barack Obama knocked some very important items off his "fuck it" list. 
The top search trends from 2016 will probably not surprise anyone, being both predictable and surprisingly mundane, considering everything that's happened this year. Remember that week when Pokémon GO was all most media outlets could talk about? Those were simpler times. 
"Love is out there," Google assures viewers. "Search on." Which is both encouraging and depressing — just like 2016.