Who are the Gotham City Sirens? Theories for the 'Suicide Squad' spin-off movie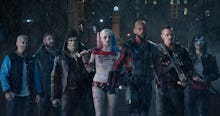 Suicide Squad, the most recent film in the DC Extended Universe, was a box-office hit despite receiving mixed-to-negative reviews. The movie earned more than $745 million globally, and though the film scored a rating of just 26% on Rotten Tomatoes, the general consensus from both fans and critics was Margot Robbie knocked it out of the park as Harley Quinn, the Joker's mistreated girlfriend. The actress even won the Critics' Choice Award for best actress in an action movie for the role. 
With Margot Robbie's stardom surging and Harley Quinn easily being the most popular female DC character, it's not so surprising Warner Bros. just announced (via The Hollywood Reporter) that it's fast-tracking a Gotham City Sirens film built around Quinn. 
Gotham City Sirens will be helmed by Suicide Squad writer/director David Ayer, with a script to be penned by Geneva Robertson-Dworet (who is also attached to Sherlock Holmes 3 and the Tomb Raider reboot). Robbie, who has been lobbying for a Harley Quinn spin-off, is attached as an executive producer. 
While it is currently unknown which characters will be joining Harley Quinn in Sirens, it is likely the story will at least loosely follow Paul Dini's comic of the same name.
This brings us to the big question: Who are the Gotham City Sirens? 
Harley Quinn (Dr. Harleen Quinzel)
Obviously, one of the major characters in Gotham City Sirens is Harley Quinn. Joker's girlfriend needs little introduction — she is easily one of the most beloved DC Comics characters, which is pretty incredible considering she originated on an animated television series. 
Harley Quinn originally appeared as Joker's sidekick in Bruce Timm's Batman: The Animated Series. Voiced by Arleen Sorkin, Quinn quickly became a standout on the animated show, eventually leading to her introduction in DC's main comic. 
In Gotham City Sirens (the comic), Harley Quinn is living with frequent ally and sometimes-romantic partner Poison Ivy. After the duo is joined by Catwoman, the Sirens are born.  
Poison Ivy (Dr. Pamela Isley)
Since her introduction in Batman #161, Dr. Pamela Isley has been one of the Dark Knight's most prominent antagonists. As such, Poison Ivy has appeared in film, television series and video games featuring Batman. In the critically maligned Batman & Robin, Ivy was played by Uma Thurman, who received a Razzie nomination for the role. 
Poison Ivy is normally portrayed as an activist and eco-terrorist who cares more about plants and the environment than mankind. She is immune to virtually all toxins, normally displays some control over plant life and has a deadly kiss. 
Ivy and Harley Quinn have been portrayed as best friends, a point which would likely be featured in a Gotham City Sirens film.  
Catwoman (Selina Kyle)
Frequent thief and Batman love interest Selina Kyle rounds out the Sirens. Catwoman has been a prominent character in DC comics since her introduction nearly eight decades ago (her first appearance was in 1940's Batman #1). 
Selina Kyle is most often portrayed as a master thief and enduring antagonist to Batman. Still, she is also the Dark Knight's most frequent love interest. Catwoman has appeared in most film series featuring Batman, including 1966's Batman: The Movie, Tim Burton's Batman Returns and The Dark Knight Rises (let's just forget the eponymous film starring Halle Berry). 
In the comics, the Gotham City Sirens form after Poison Ivy saves Catwoman from a new villain in Gotham. Ivy takes Catwoman back to her hideout, where Harley Quinn is also living, and the three form a protective team. 
Who else will join the trio? 
While it's not confirmed Gotham City Sirens will star Poison Ivy and Catwoman, it's almost certain the duo will join Harley Quinn in the Suicide Squad spin-off, especially given Ayer's tweet above. But who else could join them? 
The Gotham City Sirens comic features appearances by several characters from Batman's long history. And with the film obviously set in Gotham, it would not be surprising to see some of the city's more notorious inhabitants (and visitors) show up. 
Talia al Ghul 
While not a member of the Sirens, Ra's al Ghul's daughter does appear in several issues of the comic series. Outside of Catwoman, Talia is likely Batman's most prominent love interest, with the two having a child together: current Robin Damian Wayne. 
If Warner Bros. decides not to include Talia in the Gotham City Sirens film, it may be because she appeared only four years ago in The Dark Knight Rises. Of course, so did Selina Kyle, so that argument may not carry much merit. For what it's worth, actress Teresa Palmer has wanted to play the character since she was attached to George Miller's scrapped Justice League of America film. 
Holly Robinson 
As Selina Kyle's most frequent sidekick, it would make sense for Holly Robinson to appear in a Gotham City Sirens adaptation. While Holly Robinson is yet to be featured in a live-action film, a very similar character named Jen (played by Juno Temple) did play a small role as Kyle's friend in The Dark Knight Rises. 
Zatanna
Zatanna will likely be one of the main characters in the recently announced Dark Universe film, directed by Doug Limon. However, the magician has also appeared in the Gotham City Sirens comic, suggesting she could appear in both films. Should Gotham City Sirens be released before Dark Universe, Zatanna could be introduced in a minor role. 
The Birds of Prey
The Wrap reported last month that Warner Bros. was developing a Birds of Prey film that would feature some of Gotham City's most popular female heroes and villains. The film, as announced, is set to feature Robbie's Harley Quinn.
At this point, it's unclear whether Gotham City Sirens has taken the place of Birds of Prey or will exist alongside it. If the Birds of Prey film is being scrapped, it's possible some of its characters will show up in Sirens. Prominent members of the Birds of Prey include Barbara Gordon (Oracle/Batgirl), Huntress and Black Canary. 
Ultimately, no matter who joins Harley Quinn, Catwoman and Poison Ivy, Gotham City Sirens has the potential to be a smash hit for Warner Bros. and DC Entertainment.