The biggest wave ever recorded by meteorologists happened between the UK and Iceland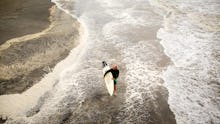 A record-breaking wave the height of a six-story building formed in the North Atlantic Ocean, between the United Kingdom and Iceland. 
The World Meteorological Organization expert committee announced Tuesday that the biggest wave ever recorded by a buoy, which measured a whopping 62.3 feet (19 meters) occurred on Feb. 4, 2013. 
"It followed the passage of a very strong cold front, which produced winds of up to 43.8 knots (50.4 miles per hour) over the area," the WMO said in its press release. 
The previous record for the biggest wave recorded by a buoy also happened in the North Atlantic Ocean a little over five years prior, on Dec. 8, 2007. It stood at 59.96 feet (18.275 meters).  
WMO Assistant Secretary-General Wenjian Zhang explained in a statement the import of recording a wave as big as the one in 2013:
"This is the first time we have ever measured a wave of 19 meters. It is a remarkable record. It highlights the importance of meteorological and ocean observations and forecasts to ensure the safety of the global maritime industry and to protect the lives of crew and passengers on busy shipping lanes."
Wave height is measured as the distance between the crest and the trough and they can be caused by a number of different factors, from the gravitational pull of the moon or sun to earthquakes underwater. However, most waves are caused by the force of wind hitting the surface of the water.
"We need high-quality and extensive ocean records to help in our understanding of weather/ocean interactions," Zhang added in the press release. "Despite the huge strides in satellite technology, the sustained observations and data records from moored and drifting buoys and ships still play a major role in this respect."