Kid Cudi New Album 2016: Release date, cover, known track list and what to expect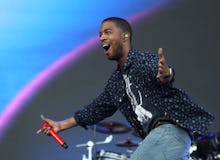 Kid Cudi is holding to his word to release his sixth studio on time. In October, the Cleveland-bred rapper wrote a revealing apology to his fans about his depression and anxiety. But checking into a rehab facility didn't stall his latest album, Passion, Pain & Demon Slayin'.
"The album is still on the way," Cudi wrote on Facebook in October. "Promise. I wanted to square away all the business before I got here so I could focus on my recovery."
Release date
Passion, Pain & Demon Slayin' will be released Friday. It appears to be an account of his spiritual journey toward managing his troubles. 
Sound wise, he's back to bringing his unique brand of croony hip-hop. Since September, we've heard singles off the album, including his latest with Travis Scott, "Baptized by Fire," a dark, spacy trip. The upbeat horn-driven "Surfin," produced by Pharrell Williams, is Cudi embracing all that makes him stand out. 
Cover
Earlier this month, Cudi revealed the album cover for Passion, Pain & Demon Slayin'. He bares his chest for the art and brightens himself with hues of fuchsia against a black backdrop.
Track list 
Passion, Pain & Demon Slayin' will be delivered in four acts and has additional features from Willow Smith and André 3000. 
Act I: Tuned
1. "Frequency"
2. "Swim in the Light"
3. "Releaser"
4. "By Design" featuring André 3000
5. "All In"
Act II: Prophecy
6. "ILLusions"
7. "Rose Golden" featuring Willow Smith
8. "Baptized in Fire" featuring Travis Scott
9. "Flight at First Sight/ Advanced" featuring Pharrell Williams
10. "Does It"
Act III: Niveaux de l'Amour
11. "Dance 4 Eternity"
12. "Distant Fantasies"
13. "Wounds"
14. "Mature Nature"
15. "Kitchen"
Act IV: It's Bright and Heaven Is Warm
16. "Cosmic Warrior"
17. "The Guide" featuring André 3000
18. "The Commander"
19. "Surfin'" featuring Pharrell Williams
What to expect
In this follow-up to 2015's Speedin' Bullet 2 Heaven, a plunge into more grungy and rock sounds, Cudi's new songs hint at a return to his formula of ethereal themes and genre-bending hip-hop. 
Cudi also hit a milestone in 2016, as it marked five years since he was ushered in as one of hip-hop's next to watch with his debut Man on the Moon: The End of Day and high-charting "Day N' Nite." Since then he's had success with several albums and acting gigs. But Cudi's also had ups and downs, which he's been very open about it: drug addiction, a fragile relationship with the mother of his daughter and industry frenemies. 
With all that's happened, Cudi definitely has more of a story to tell about his spiritual journey and we won't be surprised to hear more criticisms of the industry and his outcast experiences. 
Collabs with Smith, 3000, Scott and Williams, who all stand out from the norms in their own right, only add to the anticipation of giving us a solid anti soundtrack. However Passion, Pain & Demon Slayin' is Cudi with a deeper sense of clarity and most will be listening to hear how his new spiritual transformation has played out for him.