'GTA Online' Update: Import/Export DLC brings new vehicles at high prices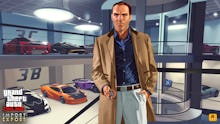 There are so many horrible ways to make money in Grand Theft Auto Online that perhaps Rockstar Games decided it was time to focus on something a little more tame — like car theft. The free Import/Export expansion for GTA Online allows players to make a full-time business out of stealing and selling luxury vehicles.
There's a lot of money to be made in GTA Online Import/Export if you play the system correctly. Here's everything you need to know.
GTA Online's Import/Export: How the expansion works
The Import/Export DLC broadens the "Further Adventures in Finance and Felony" expansion that allowed players to found corporations and make money stealing, stockpiling, and selling goods like art and jewels. Now, players can try to make a full-time business out of jacking and reselling luxury cars.
You'll need to be the CEO of a corporation and purchase either a garage or an extension for a warehouse to store the cars that you steal and sell as part of Import/Export. Once you've set that up, you can take on Steal missions that charge you with jacking a specific car you first have to locate; helicopters may come in handy for this.
After you locate the car, be prepared for regular GTA Online chaos like firefights with gangs and law enforcement and vehicular homicide. When you've secured the vehicle at one of your garages and repaired any damage, you can sell it via an Export mission.
Export missions charge you with delivering stolen cars to buyers and often require adding modifications specified by the buyer to the vehicle at a Los Santos Customs repair shop. The condition of the vehicle upon delivery helps determine the price the buyer pays.
You will appear on the radar while making one of these deliveries, which means you can expect other players to go out of their way to try and kill you, as they'll earn rewards for it. Try your best to drive carefully while screaming down the highway on the wrong side of the road and trying to avoid the missiles zooming down at you from players in fighter jets that have decided to make your Export mission more interesting.
GTA Online Import/Export Prices: Unlock Special Vehicles for fun and carnage
When you've completed enough Steal missions you will unlock Special Vehicle Work missions, which can be played with two to four players. As you complete these jobs, special vehicles will become available for purchase at a discount.
You will still have to pay through the nose for them, of course. The three most interesting special vehicles added by Import/Export are the Phantom Edge ($1.9 million), the Armored Boxville ($2.2 million) and Ramp Buggy ($2.4 million), and those are the discount prices.
Amphibious vehicles are also part of the Import/Export update. The Blazer Aqua ($1.3 million with a discount) is part Jet Ski and part ATV. The Technical Aqua, pretty much a 4x4 with a huge machine gun mounted on the back that can "drive" on water, costs $1.1 million with a discount.
GTA Online Import/Export garage: Show off your vehicle collection in style
If collecting expensive supercars in GTA Online and showing them off to your jealous friends makes you happy, then Import/Export has something wonderful to offer you: The Executive Garage can hold up to 60 vehicles.
Import/Export also adds some new vehicles that are not festooned with armor and guns. The Annis Elegy RH8 is a free upgrade to the Elegy sports car that everyone who plays GTA Online is given for free. It's also a solid car.
Two new supercars that will look good in your Executive Garage are the Lamborghini-looking Pegassi Tempesta ($1.3 million) and the Ocelot Penetrator ($880,000).
GTA Online Import/Export: All the other goodies
If you head over to the Rockstar site you can read all the details about the Import/Export expansion, which includes a new competitive multiplayer mode called Turf Wars, in which you seize territory in an arena by driving over it; the ability to change your character's appearance; and discounts on bulletproof tires, car armor, body armor and ammo until Dec. 19.
More recent game expansions to check out
'Tis the season for game expansions. Overwatch has a bunch of holiday-themed vanity items, Destiny is throwing a holiday celebration called The Dawning and Pokémon Go gave Pikachu a cute little Christmas hat.