Women's March on Washington: Everything you need to know about the date, times and more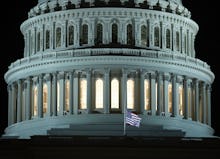 On Jan. 21, women across the United States will gather to offer a simple message to newly inaugurated President Donald Trump: Women's rights are human rights. 
In the face of an administration led by an accused sexual predator with the power to substantially restrict women's reproductive rights, the Women's March on Washington will give women everywhere the chance to have their voices heard on a massive scale.
As of this writing, 146,000 women and supporters have pledged their attendance on the Facebook event page.
"In the spirit of democracy and honoring the champions of human rights, dignity and justice who have come before us, we join in diversity to show our presence in numbers too great to ignore," write organizers on the march's official website. "The Women's March on Washington will send a bold message to our new administration on their first day in office, and to the world that women's rights are human rights. We stand together, recognizing that defending the most marginalized among us is defending all of us."
Date, time and location
The Women's March on Washington will begin at 10 a.m. Eastern on Saturday, Jan. 21, 2017, the day after Trump's inauguration.  
Although organizers were unable to obtain a permit for the march's original starting location at the Lincoln Memorial, they now claim permits have been secured for an alternate area near the U.S. Capitol Building at Independence Avenue and Third Street SW. 
Because of security reasons, the march's route from there won't be released until a later date. Also awaiting announcement is the event's program, which the organizers note will feature "nationally recognized advocates, artists, entertainers, entrepreneurs, thought leaders and others."
Who should attend?
Though the march is in support of women, organizers say "any person, regardless of gender or gender identity, who believes women's rights are human rights" are invited. However, they note parents are advised to use their own judgment on whether to bring children to the march, though they are working to "ensure every safety protocol is followed" to make the event safe for all participants. Due to the cold January weather, however, organizers advise caution when considering bringing anyone under the age of 15.
Younger activists can take part in a youth ambassador program designed specifically for children, adolescents and teens who are "inspiring their communities through advocacy and activism." The ambassadors, who are not required to attend the march and can reside anywhere in the world, will be the "young voices and faces" of the Women's March on Washington. Those who would like to submit a young person for consideration as an ambassador can do so through Dec. 31.
RSVPs
Advance registration to attend the march is not required, but attendees are encouraged to register on Eventbrite beforehand to receive emailed updates on the march and to give organizers a better idea of the attendance.
How to support
In addition to attending the march in person, there are a number of other ways to show your support. If you can't make it to D.C. on Jan. 21, consider attending one of the local marches across the country. Supporters can find or organize a local march through their state's Facebook page, which can be found through the march's national event page here. Those having trouble getting in touch with a local organizer can contact Evvie Harmon at evvie@womensmarch.com. 
Outside of the United States, international marches in support of the main event are currently scheduled to take place in London and throughout Canada.
The local state chapters, in many cases, also offer opportunities for those attending the national march to volunteer and get involved as well. Organizations who would like to lend their support to the march and participate in mobilization efforts, meanwhile, can contact Carmen Perez at carmen@womensmarch.com.
Whether or not you'll be in attendance Jan. 21, you can also show your support for the Women's March on Washington by making an online donation here.
For more information about the Women's March on Washington, visit womensmarch.com or the official Facebook event page.